8 Common mistakes in Facebook Advertising that you must avoid
Facebook ads can be either plain or captivating. You can construct it as per your choice! 
As many as 1.6 billion people across the globe are connected to small-scale businesses through Facebook. Facebook is home to 60 million Business pages. But is everyone from these making use of the platform efficiently?
The answer is NO. Out of 60 million, only ¹/₁₅th advertise actively. 
Mark Zuckerberg's team has provided a guide for Facebook Advertising with some inbuilt options; as follows:
Choose your objective

Brand awareness

reach

Traffic

Engagement

App installs

Video views

Leads

Messages

conversions
Select your audience

Location

Age

Gender

Language

custom
Decide when to run your ad

Automatic placements

custom
Set your budget

Start and end date

Price 
Pick a format

Single image

Single video

slideshow
Place your order

Measure and manage your ad
Alike other aspects of online marketing, the optimum practice for Facebook marketing is also ever-changing. And only an immortal can be immune to making mistakes related to advertising on this platform.
However, there are some general mistakes that have been repeated by marketers over time. By avoiding these, there will be a lesser chance of errors.
1. Not following marketing strategy
A solid marketing plan is a base for a business plan. Without strategical actions, it is almost useless to the business. 
Social media marketing in the 21st century is a major part of the marketing plan. And Facebook is used by almost all businesses that are present on social media. A fool-proof procedure must be prepared for Facebook marketing as well.
For that first of all, you need to understand the objective behind the Ad. Define your end goal. 
Answering the following questions will help you. 
What do you want the Facebook users to do after seeing your ad?

Do you want them to learn more about your brand?

Do you want them to visit your website?

Do you want them to convert to a customer?

Do you want them to refer your brand to their friends and family?
The usual mistake, in this case, is people do make a good policy but do not put it in action properly. Setting up an account is simple. But what is tricky is maintaining the account as per the decided policies. 
In most cases, it is setting and forgetting. Just making your page and not looking at it for weeks will be harmful. You need to check on a regular basis. 
2. Improper selection of the target market
A target is a group of people who have the highest probability of buying a company's product. And it makes the most sense to an enterprise to focus on such people. 
Some elements used to determine a target market are: 
Age 

Gender

Education

Marital status

Race

Religion

Beliefs

Interests

Personality

Interests
Facebook gives you an advantage by providing inbuilt choices of the target market.
The rate of your conversions is proportional to two factors; namely the audience you are targeting and the offer you are using.
Your marketing recipe will be bland if you get these two main ingredients wrong.
It is a huge disaster when businesses do not conduct customer surveys. There is reliable evidence that customer surveys are inevitable for success. 
A sales funnel is a term in marketing referring to the steps potential customers go on to their way to make the purchase. There are three main parts of the tunnel – top, middle, and bottom.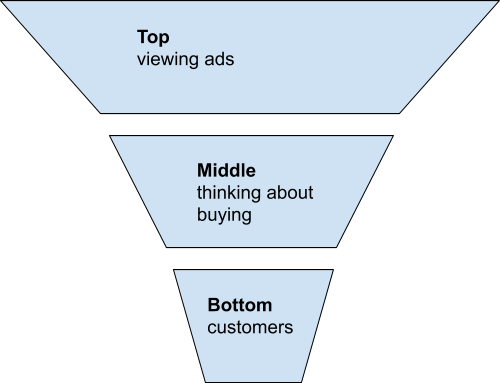 Now, let's put it in simple terms. The first stage is the top funnel when people are getting awareness about your brand. It may be directly, by viewing ads in their feeds or indirectly by ads being shared with them. 
The number of people that move down the funnel in becoming your customers depends on your sales and marketing plan. You need to pay more attention to the bottom and middle funnels because they are more convinced in buying from you.
 Entrepreneurs give more importance to future customers rather than taking care of old and loyal ones. This is is a red signal. The funnel will start getting narrower at the bottom if you do not keep your present clients satisfied. By doing this you are breaking the trust of previous clients. It is mandatory that you retain previous consumers and keep them happy. 
 3. Unfocused choice of Ad type
The Facebook business page provides six categories of advertising. They are:
Photos in multiple sizes

Videos

Carousels – scrollable images

Slideshow – combining existing images to create a video ad

Canvas – full-screen interactive ads

Collection – a showcase of a set of products 
It is a tough decision to choose the perfect type for your post. A survey on the target market along with the nature of your saleable items will assist in making the choice.
Tricky as it may seem, it is not impossible!
Try to put up content with a vibrant or pleasant tone like eye-catchy images and interactive material.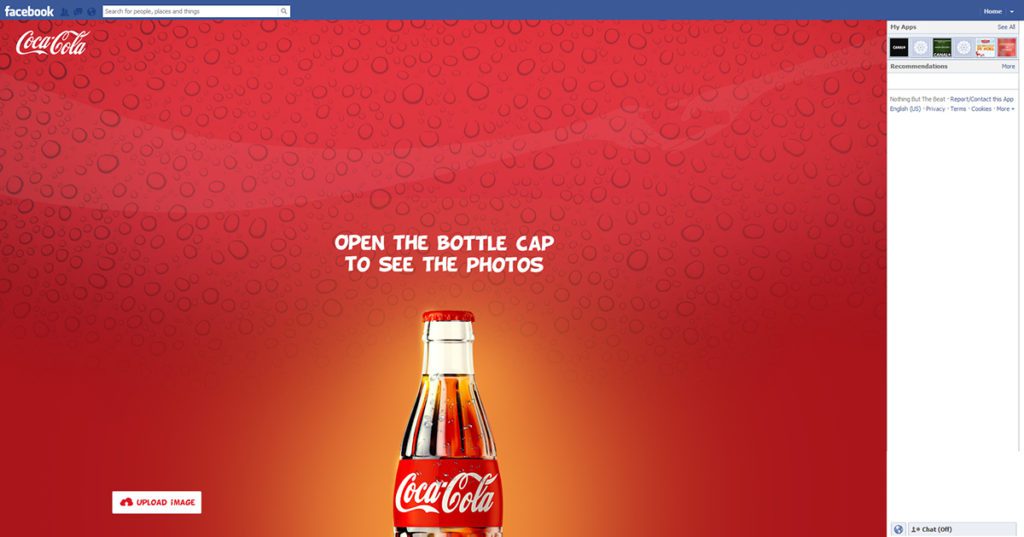 This is a promotional post from Coca Cola, which is a good example of an interactive advertisement. Lesser words "open the bottle cap to see the photos" are more impactful and generate a sense of mystery. A large number of viewers will click on this to unravel those mysterious pictures. 
Don't lag behind because of the abysmal planning and absence of foresight. Avoid focusing on posts that are of the "hit it and quit it" type which will not give you long-term results. 
In contrast to this, look for ageless content that can be tested for a prolonged time period. Invent ways to indulge your prospects all through the sales funnel by creating ads that are appealing at every stage of their purchase path. 
One such tool that is powerful in telling stories of brands doing big things is paid advertisement. If you have decided to stimulate content or event that is not evergreen, patiently and thoughtfully plan it in advance. For this, you need to utilize different ad types, produce dynamic ads, and understand your audience precisely to meet them where they are.
To save yourself from making an inaccurate choice of ad type take help from Facebook IQ.
4. Posting homogenous posts every time
Marketing plan, target market, ad type all on point. Despite all this, posting akin posts, each time will show a decline in the engagement even for the ads that worked best in the past. 
You must know this and accept this. Keeping the ads updated and incorporating new ideas is a must. Because Ad Fatigue can set in even over a few days' time.
In addition to this, you do not want the audience to see the same ad, every day, for months over and over again. This will do nothing apart from increasing your cost per conversion. 
Therefore, focus on checking these metrics regularly to ensure your ad is not repetitive:
Ad frequency

Relevance score

Click-through-rate vs conversion rate

Number of leads

Ad performance by placement

Clicks by interest
Don't forget to keep testing along the way. Monitor the data regularly (if possible, daily). The data will give you proof, but it will take time.
Be patient enough for this. Because it is wisely quoted by the Canadian author Janette Oke, "impatience can cause wise people to do foolish things".
5. Not using new ideas
Incorporating new themes and ideas has proven to be advantageous a lot of times. One must focus on ads related to upcoming or trending events. Moreover, posting content that is in the moment is also efficacious.
Sadly, when talking about Facebook Advertising, the way marketers establish their market is by boosting posts. The trouble with this outlook is that it is an isolated and kind of approach. And it resists sharing information with others. 
To acquire new ideas, interaction is a must. This exchange can be between fellow employees or competitors or even customers. 
Putting up unique and creative posts has never been futile. Sarcasm, humor, use of puns and polling are some examples of the latest trends in Facebook advertising.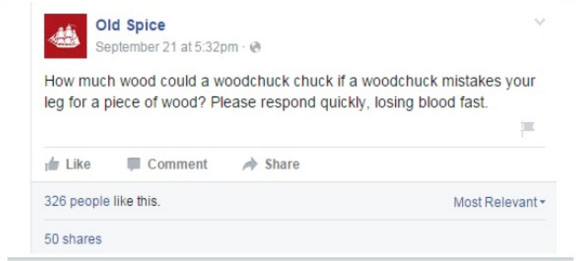 Look at how Old Spice has used humor to increase user engagement on its post. 
6. Forgetting to make use of Facebook Pixels
In non-technical language, a pixel is a technique to keep a course of interactions happening with your advertising. 
The Facebook Pixel can be used to:
Build custom audience from your website so that you can re-market to them

Optimize ads for higher conversion rate

Track conversion on website or event page and assign them to your ads
Facebook Ad Pixels, if operated correctly; is an awesome way of measuring your ad's efficacy in getting results whether the aim is to drive traffic to your website or some other goal related to brand marketing. 
The report obtained through Pixel will assist you in learning how the audience engagement is with you outside the Facebook platform. And you can use this to implement fitter advertisement patterns along with selling to them on the same platform continuously.
7. Not eliminating those who have already converted to customers
Among the vast audience, a few people are convinced customers of the company. And it is a huge mistake when companies do not filter out these buyers and keep showing promotional ads to convince them to become users. This gaffe irritates the shoppers displaying mismanagement of the brand. 
Thus, it is crucial to keep an update regularly, about the conversions and filter them out of the ads having sign up details. 
There are various methods to do this. Of these, one method is to generate a listing of those that have visited your offer's Thank You Page as well as those that filled out your sign up forms or have made a purchase. 
To exclude these people from seeing your ad, make use of Facebook's Custom Audience option. By doing this, you are saved from wasting money and vexing your potential customers and the present ones. 
8. Generating ads only for sales
Using ads for the sole purpose of selling services or offering discounts very similar to a salesperson forcing purchase on you. It feels displeasing and annoying. 
Facebook's aim is to not disrupt the user experience it will penalize you for using low-quality content by ceasing your ad.
The winning brands, create an experience for the audience through their Facebook ads by making use of storytelling, relatable creative and copy, keeping in mind the intention to meet the spectators where they are at.
Concentrate on providing information about your company to the people who are supposed to be learning about who you are and what you do. This way you can build a rapport.
Keep clear of these Facebook mistakes!
Not using your Facebook advertising as an independent strategy will help you in avoiding these common mistakes. Plot an integrated plan and take enough time to put that into action flawlessly. 
With all things going as planned, an ideal timeline for a victorious campaign is 90 days. Having 90 days of data for comparing what works and what doesn't is the best process. Stick to your 90-day plan, test the derivatives and make changes accordingly.
Therefore, make sure you have time allowance for this and beware: do not set it and forget it!
Dynamically track your ad spend and share the data with your associates to make them understand the outcomes that you are getting. 
Once you have a grasp on the campaigning, consider other options. If it seems confusing, hire an expert!
Employ these points and steer clear of making the same mistakes that other marketers have made previously.