Don't forget the importance of influence while counting your engagement rate on social media!

People and brands give too much importance to the number of followers or likes that their piece of content receives. However, the truth is the game is not just about numbers but about the value that your followers place on the content. While counting the number of potential customers one can get and how much more you can engage the target audience, people tend to forget the depth and value of those connections. Numbers do matter, but putting more than the necessary emphasis on those likes and followers cannot help unless those interactions turn actually into leads.
You might not get the whole picture by just viewing the numbers
The marketing system works blinded by certain assumptions that if there are a huge number of responses, it makes their content successful. The outcomes get ignored while the brands are being joyful looking at the responses.
Let's talk about a Facebook post. People scream with excitement when they see 1 million likes and 50,000 comments on one of their post. But do you really think all of those 1 million followers will create genuine leads for your business? There are a lot of chances that people liked the post just because they liked the content while they were scrolling through their social media page. That does not mean each one of those who saw your post are going to bring some value to your business. They might have just unknowingly liked your post while they were busy scrolling down. But somehow the analytics show that your post was seen by so many users.
Looking at the above example, we can get an idea about how the reaction count can deceive you. Such posts and advertisements do not even exhibit positive customer engagement. There are many of the companies whom we follow but some of their advertisements that keep interrupting our other activities on the web and might even bother us. But, we somehow clicked the ads too many times accidentally while trying to click on the close button. The clicked did get a count but that was because they were disappointed which you could not understand from the mere analytics and the numbers that you kept counting every time.
Your social media follower count is trivial
As we discussed the example of Facebook likes and comments, people and brands usually have a similar misconception regarding the follower counts. But as a matter of fact, the number of followers is only useful for your business if they actually consider and relish your content. If the followers are associated with your brand on social media just for the sake of irrelevant numbers, that will not get you any profits. Your followers can be the center of focus or they can even stay just a number.
Let's check out another popular social media site- Instagram.
Suppose you have 35000 followers and only 15000 of them come to your DJ night party when you post promotional creative content. It means you have 15000 valuable audiences on your social media account. The rest is just not important. The other 20000 followers either are not interested in your content or they are not a genuine audience. And if that happens, you must understand that the 20000 followers that you have do not provide any value to your business.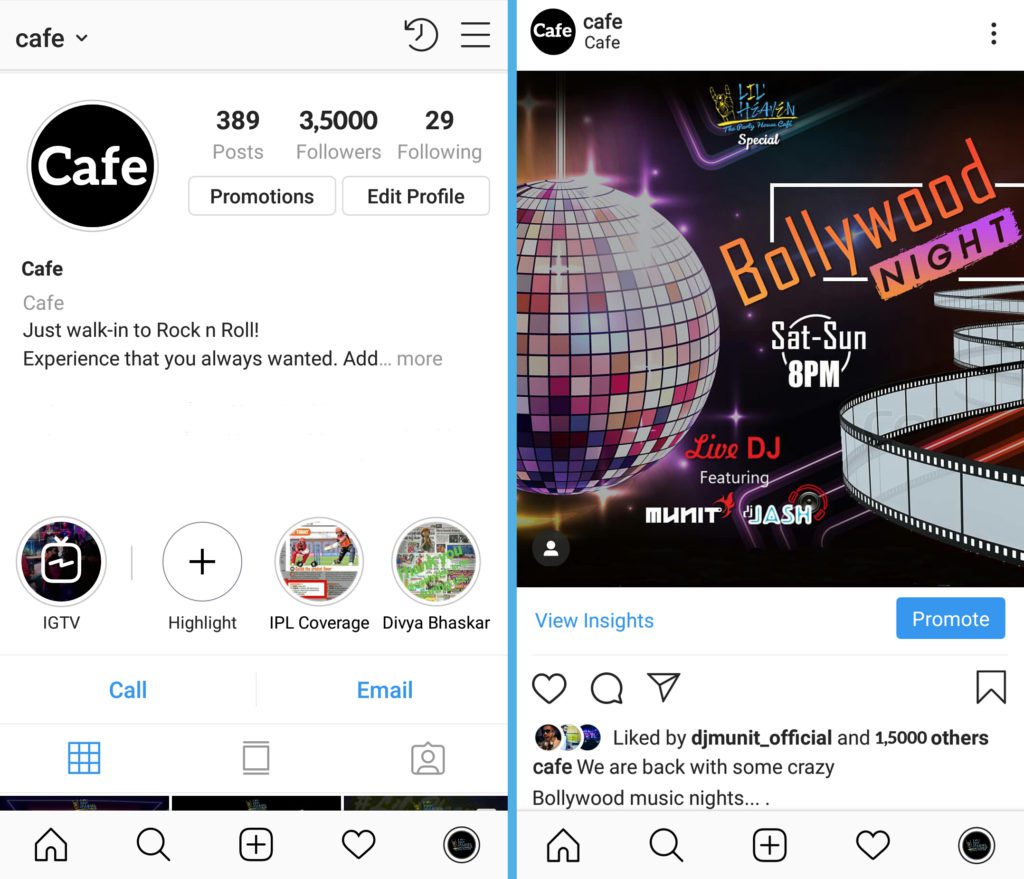 Brands do not like when they have a low number of followers. People feel that if their number of followers is less then they do not have a chance of doing well in business. Sometimes, people even get discouraged having less number of followers. But, the fact is having a big number on your profile does not matter. What matters is a single re-post and one single link in the email to expand your reach to the thousands of genuine customers out there.
Focus on those who pay attention to your posts instead of running behind increasing irrelevant followers
Rather than talking about how many people saw your content, you need to concentrate more on the content which brings value to your followers. Your customers will be interested in the content which is informative instead of just promotional. If you want the customers to land on your website page directly from social media, you need to make that content compelling enough for the customer to click on it and read more. The key to success is grabbing the attention of your users.
When you talk about organic reach, the social media players like Instagram, Twitter, Snapchat and Facebook are leading the show. Do not get discouraged if you have just 300 followers to your profile on Instagram if you are actually getting 50% of them to delve in your posts. On the other hand, if your competitor is on the seventh sky with 3000 followers on Twitter, be very much sure, it is just a number collected through the Twitter analytics and not the exact followers who pay attention and understand the context of their posts.
Be it any platform, the only thing that you need to understand is what your followers are actually looking for. Once you are familiar with their taste and choice of content, you can always move ahead with solutions to their problems in order to connect with them on a deeper level. Following this method will help you to understand and convert your audience.
For example, a cafe owner has 10,000 followers on social media. The owner has a thorough understanding of his followers and how to keep them engaged. During the IPL season, he wanted to have a live telecast of the matches at his cafe on the big screen. To attract the audience and gain their attention, a simple creative post was added to his wall on Instagram which lured the audience to post their pictures enjoying the cricket game at the cafe on their own walls. This was the best method to trade their attention and command the most amount of awareness. Remember, having something that 100 people love is far better than having a thing that 1 million people sort of like.
Thinking Over:
We at Thrillax believe in adding value to the lives of our customers. We think about how many people really care about the concept and the content. Quality is always the priority over quantity. Influence is not when the follower count is more. In fact, influence is when people actually listen. Influence versus audience is just like how SEO used to work previously through keyword stuffing. But with the advancements of search engines, there is constant battle nowadays to keep up with the ranking. The search engines got smarter with the backlink checks and magnifying the content valuable to the customers.
Similarly, in social media, focusing on making the viewers care about your brand is essential over-optimizing the number of views. Providing the content that will really make a difference and will make your views visit you time and again will help you in being more connected to them for better engagement. When your viewers start noticing your brand for real, you will automatically start moving in the direction of victory.