YouTube Marketing as Future: think twice before adding YouTube tags

Annie was searching about YouTube marketing for our newest product launch. She was new to marketing and wanted to find out each detail that could make her product a huge success. She found various strategies to make her YouTube marketing a breakthrough. Let's discuss her findings and how you should approach YouTube marketing like a pro.  
YouTube is the second largest search engine on the internet. Most of your audience is on YouTube and it can help a lot to improve your SEO and overall brand presence.  YouTube enables you to present peculiar content that's easy for viewers to absorb and share.
YouTube marketing can be a tormenting medium for brands. That's why you need expert guidance to walk you through each step of marketing on YouTube right from creating a YouTube channel, optimizing videos for SEO, running a YouTube advertising campaign and interpreting video analytics.
YouTube marketing works in six simple steps:
Creating and branding a YouTube channel.

Optimizing videos for SEO

Creating videos for YouTube

Building your YouTube strategy

Learning YouTube analytics

Running an advertising campaign on YouTube.
Creating your YouTube channel
First things first, you need a Gmail account before you get down to YouTube video filming. Since YouTube is owned by Google, signing up for a Gmail account automatically gains you access to a YouTube account.
Now that you have a Google account, you can post some awesome video content on your YouTube. But before that, you need to set up a YouTube Brand Account. A Brand Account enables users to control editing permissions and build a more holistic online presence. We can help you to better customize your account and add an interesting channel description to make it more engaging.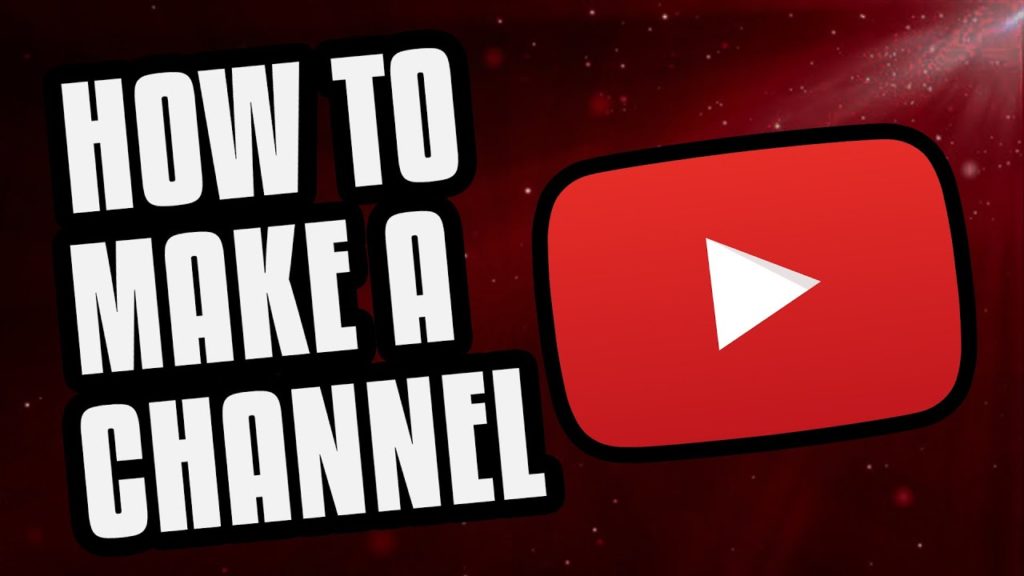 Optimizing your YouTube videos
Title:
Just like how on-page SEO works, it is vital to optimizing your video's title and description. Your titles are the first things that people read while scrolling down through a list of videos. You need to make them clear, compelling and curious. The keyword research is fundamental to understand what viewers are searching for.
Description:
Only the first few lines or about 100 characters of the video description will be visible on the video. To read beyond, the users will have to click on 'show more'. So, you need to make sure that your users are kept engaged with the important links or CTAs at the beginning of your description.
You can include the video transcript to improve SEO and add default channel description that has links to your social channels, video credits, and video-specific time stamps. Including #hashtags in your video titles and descriptions can be a great idea as well.
There are other details like categories, thumbnails, annotations, etc for which you need help from a seasoned person.

Creating videos for YouTube
Now that your YouTube channel is all set up, you can start by putting some engaging content on it. For that, you need to have an amazing video script. Thrillax has creative ideas to produce a great video script for your channel.
To write a good video script, it is necessary to establish what you want to achieve with your video before you get into the nuts and bolts of bringing it to life. Once you are clear with the objective of the video, you can create a storyboard. We can put on our creativity hat and help you work on your story.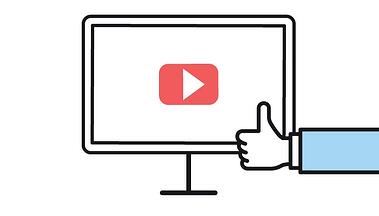 YouTube Marketing Strategy
Now that your video is ready and optimized for search, let's discuss how to market your YouTube channel and videos. Although the ideal thing is to make it rank higher in searches and have a large subscriber base. But such things cannot be achieved immediately when you are just starting.
So, it is important to always spread the word about your YouTube channel and videos over different platforms. Fortuitously, YouTube and different platforms make it effortless to share video content.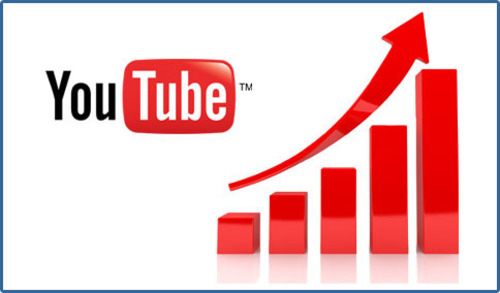 Here are amazing tips to promote your YouTube content on other channels.
Social Media
Sharing your videos on social media is an uncomplicated way to append extra insights into your video and engage the viewers. YouTube makes it simplistic for you and others to boost your video across other social networks.
If you wish to share a video, one needs to click the "Share" tab below the video. You can select the platform where you wish to market the video. You can also get a shortened URL to your video for a comfortable posting. You need to design the best marketing strategy while promoting your YouTube channel or videos on your social media sites. Just sharing the video on your feed or timeline is not enough. Your video should add value to the lives of your viewers.
Blog Posts and Website
You can choose to market your YouTube channel and videos on your website and blog. Adding a YouTube icon on your website can help your audiences to find your channel easily. You can consider making a YouTube video to supplement a particular blog post or sharing client video reviews or case studies on your website. You can also insert related videos on your website or blog posts.
Email and Quora
While finding new customers and leads, you should not forget the existing ones. You can share your video content with those customers via appropriate emails and encourage your customers to check out a blog post embedded a video to improve both the video and website traffic. Sending an email newsletter with relevant information and video content is another exceptional way to keep your connections interested.
If you have videos that answer a particular question or solve a problem, Quora marketing is a great way to share video content.
YouTube Tags:
It is certainly worth adding appropriate and descriptive tags to your YouTube videos. But it is not something worth spending too much time. YouTube themselves openly acknowledge that video tags are insignificant compared to your video's title, thumbnail, and description. So, spend more of your time and effort into them. Moreover, creating engaging videos that retain viewers' attention is the most important of all.
However, there are certain things that you should keep in mind while adding YouTube tags to your videos:
These are the words and phrases that represent your video and provide more meaning to help people find your content. So, it is necessary that you add the YouTube tags to your videos cleverly!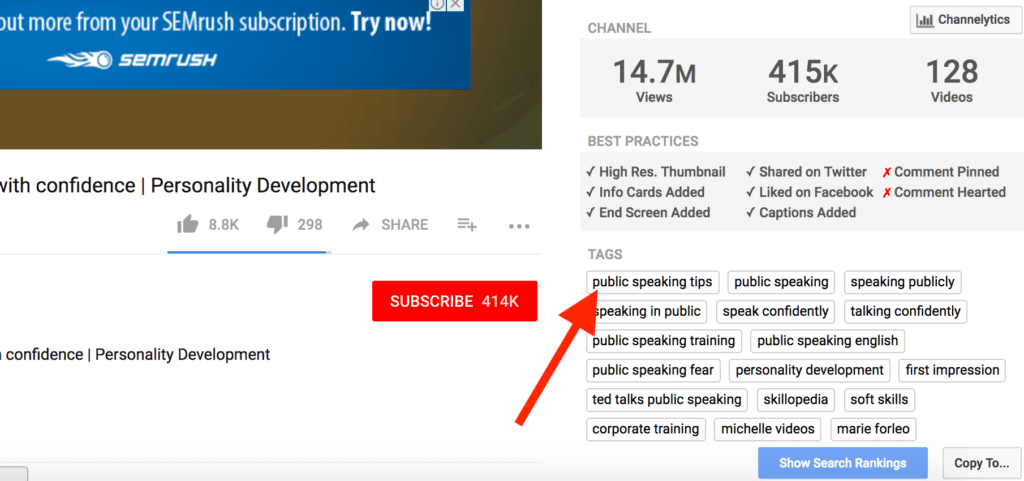 There are two methods to add YouTube tags to your videos smartly:
Adding tags that are relevant

Using a logical process to add tags
YouTube tags play an important role in ranking factor in YouTube's search algorithm. Like any other metadata, the YouTube tags provide an opportunity to provide YouTube and Google information about your video including your video's topic, category, etc. So, it is important to think twice and brainstorm before adding YouTube tags. We recommend getting specific by doing keyword research and competitor analysis.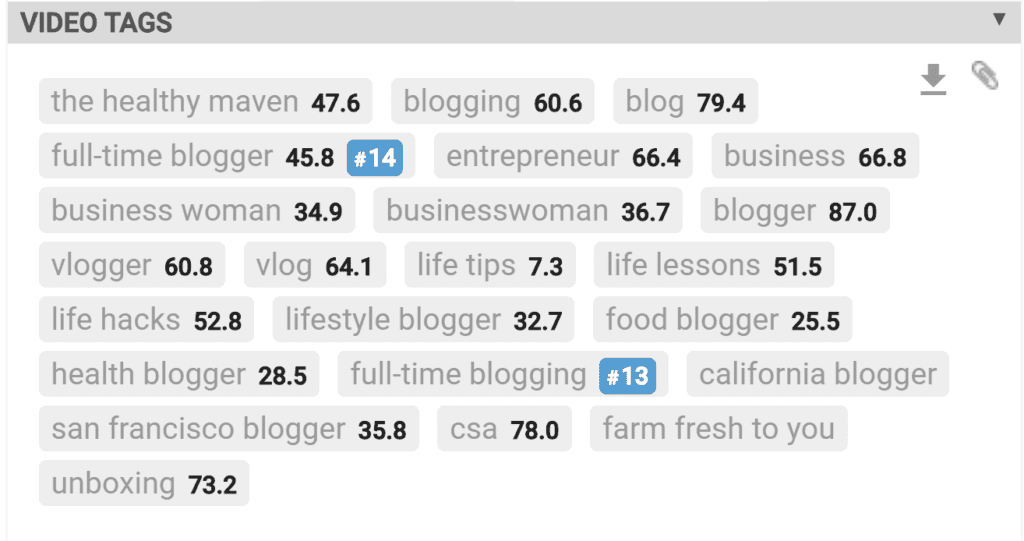 Let's answer some FAQs regarding YouTube Tags:
How many tags should you use?
Ans: YouTube has a 500 character limit in the tag field. So, using as many possible but relevant tags is recommended. YouTube informs you when you have crossed the character limit. Tools like VidIQ can make the process of filling out tags easier as it adds a counter below the tag box.
Does the order of tags matter?
Ans: No, it doesn't. However, we recommend putting the most important tags in the beginning and you will perform well. Although, it is unlikely that the order of tags will affect your ranking.
Optimize the YouTube tags but pay attention to the whole process
Optimizing tags is great to let YouTube know what your video is about. But you must know they are just a small piece of a huge puzzle. Just adding tags will not get you the desired results. Make sure you add relevant descriptions and titles to your videos.
Share your YouTube strategy with us or talk to us for any YouTube marketing advice that you need. We are always glad to help!