5 Benefits of Content Marketing B2B Companies Shouldn't Neglect

Content marketing is a cost-effective way to engage with their prospects, build long-term relationships, and convert them into paying customers.
It creates an opportunity to cut through the clutter and deliver what your potential customers are looking for.
But despite the incredible ROI of content marketing, most B2B companies still don't have a robust B2B content marketing strategy. And the main reason behind this is the lack of knowledge & clarity on content marketing.
If you're a B2B company planning to invest in content marketing but not sure what its benefits are, you've come to the right place.
In this post, we've explained what is B2B content marketing, why is it important, how it is different from B2C content marketing, and its key benefits.
What is B2B Content Marketing?
B2B content marketing is a strategic marketing approach that involves producing and distributing content to boost brand awareness, drive organic traffic, engage with potential customers, generate & nurture leads, and ultimately increase sales for B2B companies.
It provides B2B companies with an opportunity to establish their brand as a thought leader in their industry.
Why is B2B Content Marketing Important for B2B Companies?
The answer is simple — content marketing has unmatchable ROI for B2B companies.
You don't have to take our word for it.
Research conducted by Statista revealed that 30% of marketers consider content marketing to have the highest ROI among all marketing channels.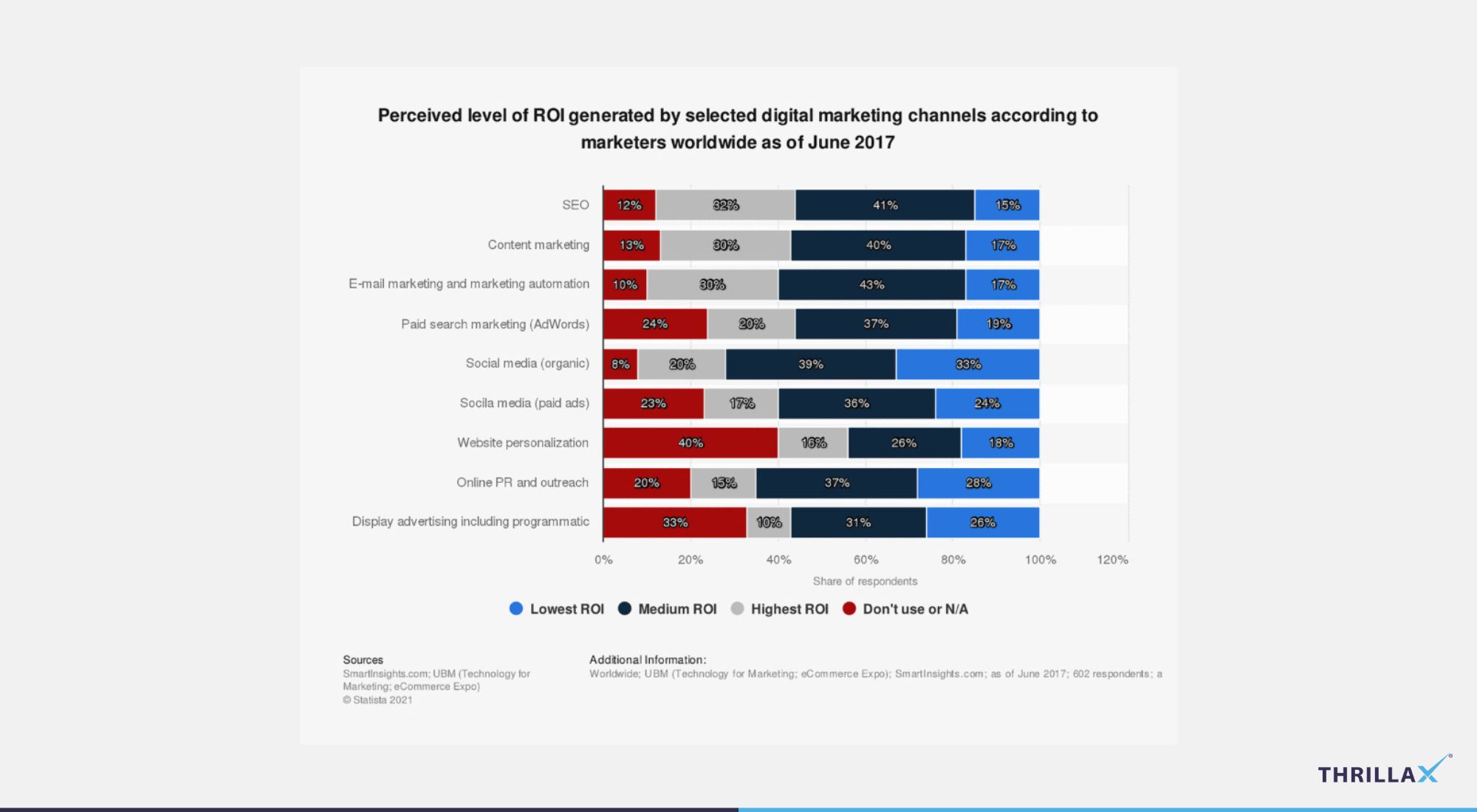 This is the primary reason why 90% of organizations now leverage content marketing to increase brand awareness and drive sales.
It gives B2B companies the backbone for their customer acquisition strategy. When this backbone is placed wisely, it can drive phenomenal growth for any kind of B2B company.
What is the Difference Between B2B Content Marketing & B2C Content Marketing?
Short answer? — Different audiences.
To elaborate, B2C content is mostly focused on creating munchable content that is aimed at engaging and entertaining its target audience.
B2B content, on the other hand, is created exclusively for businesses, by businesses. Because of this, it focuses on a wide range of content formats to demonstrate subject matter expertise and instill trust in B2B buyers.
Another key difference between B2C & B2B content marketing strategy is the purchase journey.
B2C content marketing mostly deals with simple and quick purchase journeys.
In simple words, the path between a potential customer discovering a B2C business and making a purchase is short and easy.
B2B content marketing, on the other hand, involves a lengthy and complicated purchase funnel that can take anywhere between a couple of weeks to months and sometimes even longer before a prospect becomes a paying customer.
3 Examples of B2B Companies Winning With Content Marketing
Now that you know all the basics of B2B content marketing, let's look at the 3 examples of B2B companies that are achieving incredible results with content marketing.
Marriot
Many Hotel chain companies are now leveraging content marketing to grow their business. But off all hotel chains, Marriot tops the list.
Recently, they developed a relatively new global creative studio that publishes a wide range of entertaining content focused on the travel industry.
The primary intent for this strategy, according to Marriot's vice-president, David Beebe, is to become the best travel content publisher in the world.
He further said that content marketing has always been a beneficial strategy for Marriot for building its brand image, and the launch of the lobal creative studio is their latest initiative to take it to the next level.
Because of this campaign, Marriot has witnessed a steep rise in traffic, engagement, and even bookings all over the world.
Secureworks
Secureworks is a popular cybersecurity company in the U.S. and it specializes in helping B2B companies and enterprise-level organizations detect potential sources of cyber attacks.
The company is actively leveraging content marketing to help its customers gain knowledge about cyber threats and positioning itself as the ultimate solution to solve their cybersecurity-related problems.
To achieve this, Secureworks is consistently publishing informative blog posts on information security and compliance.
Additionally, the company has developed in-depth resources in different content formats including white papers, videos, case studies, webinars, and reports.
Thanks to this approach, Secureworks is able to turn one out of every two leads into a sale and successfully doubled its conversion rate.
Velcro
Velcro needs no introduction as everybody knows the company is the inventor of two-sided "hoop and loop" adhesive that is now commonly used on a variety of products, from running shoes to picture hangers and everything in between.
To succeed in the digital world, Velcro came up with a brilliant content marketing campaign where they created humorous, yet clever content that conveyed a message that using their company name as noun or verb is illegal.
To elaborate, they published two videos featuring the company's legal team singing about the proper use of the term "Velcro".
Both videos went viral in a short time.
The first video received over 1 million views from more than 100 countries across the globe.
The second video received over 100,000 views and generated a great number of conversions about using the term "Velcro" as a noun and a verb.
5 Benefits of B2B Content Marketing You Ought to Know About
As you've just learned, all kinds of B2B companies can benefit from content marketing in one way or another.
But if you insist on knowing the specific benefits of B2B content marketing, we have covered that for you as well.
Improves Search Engine Optimization
SEO is at the core of any content marketing strategy.
This is because content marketing can help your B2B SEO efforts by securing top rankings for your target keywords and phrases in SERPs.
Additionally, it can even help with link-building and establishing thought leadership, both of which are crucial to rank on the first pages of search results.
Plus, when you publish a piece of content and it ranks on the first page of search engine results, it can send targeted traffic to your website with a high probability of converting visitors into paying customers.
Boosts Website Traffic & Leads
As mentioned earlier, content marketing has proven to be the best marketing approach for boosting a website's traffic and generating leads.
It allows you to demonstrate who you are as a company and what your company offers through blog posts, emails, case studies, and many other content formats.
So whenever a potential customer is searching for something that your company offers to solve their problems or challenges, they will find your company through the target keywords and phrases.
And eventually, they'll click on your link from Google search results, visit your website, and may even purchase your product or take your desired action.
Increases Conversion Rate
Content marketing enables B2B companies to produce valuable content for their potential customers and deliver it at the right time, which often translates into conversions.
You see, when you create valuable content that targets your potential customers and monitor its performance using an analytics tool, you'll have learned insights on what content your potential customers have interacted with.
Using this data, you can publish similar content that retargets those prospects on different platforms with the purpose to turn into paying customers and thus, increasing your overall conversion rate.
Enhances Brand Affinity & Customer Loyalty
When you provide valuable content to your potential customers at the right time and in the right place, it shows that you're listening to their problems and want to solve them.
And when you publish valuable content consistently, it keeps your potential customers engaged with your B2B brand, which eventually increases your chances of making a sale.
However, if you want your customers to have a strong affinity towards your B2B brand, you'll have to offer more than just products and services. In other words, your customers must love what your B2B brand offers and even tell their friends or coworkers about it.
When you develop this level of advocacy in your customers, they'll automatically boost your brand affinity in your market.
Cost Efficient
Last but not least, content marketing is extremely cost-efficient compared to other marketing channels.
According to research content marketing has proven to generate 3x more leads at 62% fewer costs compared to outbound marketing efforts.
The main reason why content marketing is cost-efficient is because valuable content can keep sending website traffic for years. On the other hand, when you buy an ad, it can be only effective when it's seen.
Plus, when your ad expires, it's no longer useful unless you spend more money on it. Whereas, a valuable piece of content, distributed strategically across different platforms, can keep sending visitors for months and sometimes years as well.
Your Turn!
Content marketing is a long-term investment. When done well, it can skyrocket your business growth.
However, content marketing requires taking a strategic approach, especially for B2B companies. This is why it is always recommended to bring in experts.
Being a SaaS & B2B content marketing agency, we can help you drive brand awareness, increase website traffic, and boost qualified leads through content marketing.
Throughout our journey, we've helped a plethora of B2B companies like Hari Krishna Exports, Coruscate, and Balas Office Furniture grow their business with our commendable content marketing services.