Everything about Google My Business
The first thing that one hears when they think of starting a business is – 'list it on Google'. As the world is going online, listing your business on Google can make it appear right in front of the customers when they search for the products and services that your business offers. This makes it possible for your potential customers to learn more about you and connect with you.
Now you would want to know more about Google My Business. Let's discuss each detail about it further in the blog.
What is Google My Business?
Google My Business was launched in the year 2014. It is an internet-based service or a free tool useful for the business owners and operated by Google. It is a way to provide the business owners more control over the search results when someone searches a business name. It helps the small businesses to create and manage their Google listings when the customers try to search businesses on Google search and Maps. Through this tool, Google allows the business owners to verify their business data by either creating a new profile or claiming the existing auto-generated profile. The business owners can attract new customers by sharing information about the things that make them special. The Google My Business listing appears in the Google Maps of Google and in the local pack for qualifying search queries.
Why is it important for you to list your business on Search and Maps?
As we all know, in today's world, if you are not online, you don't exist. Every 3 out of 4 shoppers search online whenever they wish to find something. Also, a study stated that every 7 out of 10 people made their purchase from the business which they had found online. When you list your business on Google, you can make yourself accessible to these buyers by actually appearing in the search results when they search for products and services related to your business. With the increasing awareness of technology, millions of Indian businesses are going online and can be spotted on Google. Through Google My Business, they are connecting directly with their customers.
For example, let's consider the Foresight School in Ahmedabad. According to a report in Economic Times, it gets 30% of its customers through Google by managing their reviews and regularly posting the special offers and events.
How to set up Google My Business for my business?
You can list your business on Google in these few simple steps:
Step 1: Go to Google places to list your business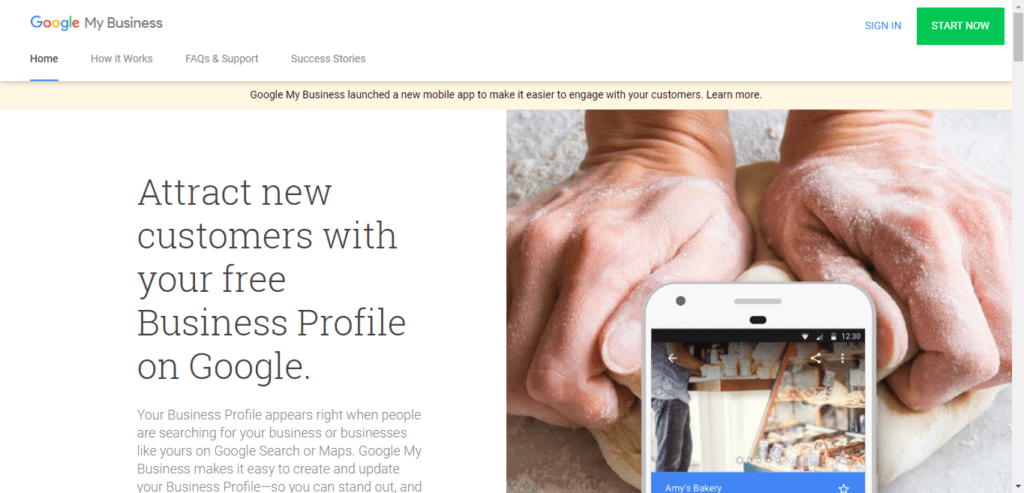 Step 2: Start a listing
Step 3: Add your Business information in the listing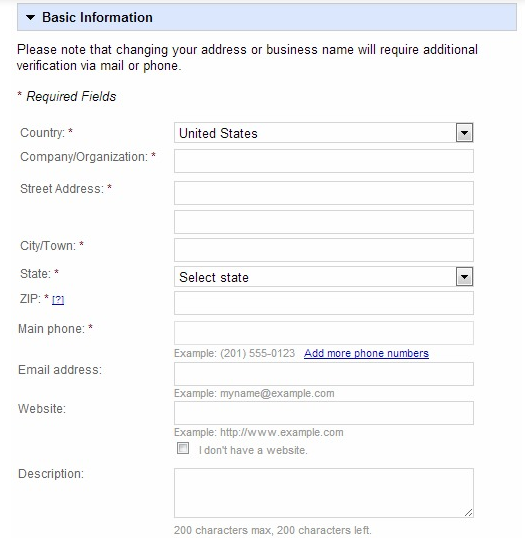 Step 4: Select your service area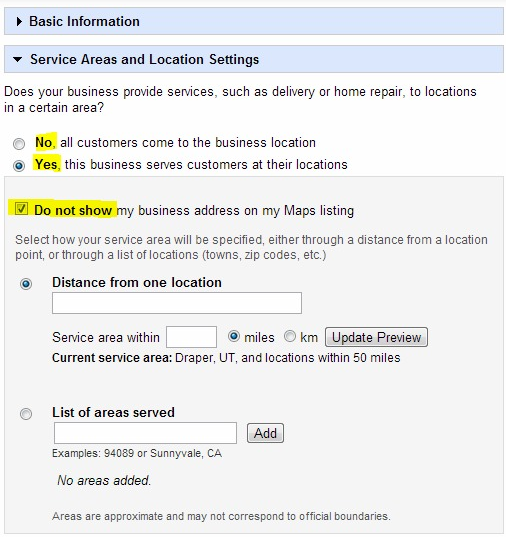 Step 5: Choose your working hours

Step 6: Select your payment option (optional)
Step 7: Upload a few photos and attach YouTube videos.
Step 8: Add additional details if any
Step 9: Verify your information
Step 10: Click Finish and google will send you a postcard within 2-3 weeks at your address to verify your listing.
So now when you are good to go with your Google My Business listing lets know about some of its usefulness.
What are its Advantages?
Google My Business is absolutely free.
» The photos and videos that you share on GMB enable your customers to take a 360-degree view virtual tour of your business, even before they drop by at your store!
» All the barriers between you and your potential customers are removed. They can access your phone number and address all in just a click.
» Managing your online reputation and interaction with customers is simple and smooth with GMB.
» Google My Business closely ties in AdWords, Insights, Google+, Maps and Search which helps in maintaining your online presence like never before.
» The major advantage of GMB is that your customers will be able to find your business and connect with you directly.
So, there is a considerable benefit of utilizing Google My Business and you can really get a number of customers actually land into your store.
How to optimize GMB to help your customers to reach your place easily?
Here are a few tips for you to optimize GMB:
1 Make your Google My Business profile perfect.
You need to create a profile with accurate, comprehensive and up-to-date information in order to optimize your GMB page. The first thing that people notice about your business when they come across the search listing is your profile. The profile is divided into several sections. Let's discuss the necessary part that you have to fill out.
» Name:- Name does matter. The safest thing to do when it comes to writing the name of your business in the profile is to keep it consistent with what you have mentioned on the website.
» Address:- Make sure you pin your business location accurately on GMB.
» Phone number:- Ideally the clickable phone number link and address in the Google My Business profile literally removes all the existing barriers between you and your customer. Make sure you provide a correct phone number so that when the customer tries to contact you, they should not be disappointed.
» Business category: The business category has to be chosen carefully as it will describe your business and connect you to customers searching for the services that you have to offer. Remember, your business category is one of the most important factors that can influence your local ranking on Google. Thus, you need to consider your keyword strategy while you add your business category in the profile. Make sure you are being specific while entering the category as an irrelevant category will not get your expected results.
» Description:- GMB allows you to describe your business in around 50 characters. Make the information eye-catching that mirrors the purpose of the brand or business. The right keyword in the description is recommended instead of stuffing too many.
2 Keep the information consistent across the web
It doesn't matter if you manage a single listing or too many across the web. But if there is any form of inconsistency in the name, address or phone number, it can have a negative impact on your Google ranking. Every piece of information that you share on your website, social media or across web must be consistent and should not misguide the potential customers.
3 Upload high-resolution images for your GMB profile
After adding the necessary information in your listing, you can move ahead and personalize the visual aspect of your GMB page. Remember, no listing is complete without photos. Business with photos is likely to be considered 2 times more than the listings without photos.
Make sure you upload your profile photo, logo, cover photos and the 360-view of your business in the listing to give your potential customers a fair idea about your business. Make sure that the photos that you upload follow the Google best practices.
4. Collect reviews for your GMB profile
People check out reviews and ratings before going for any product or services. Your GMB page reviews are very crucial for your overall marketing mix. They offer you greater visibility in the organic and paid search results and also improve the customer's trust in your brand.
So, in short, if you get good reviews they are equivalent to better sales.
Your reviews are displayed right in the front and center of the Google page whenever a search is performed. The star rating and review help your customers to make an instant choice by comparing competitors.
To collect Google reviews, ask your customers to leave a review on Google My Business page.
Convince them that their feedback regarding your services does matter. Try to respond to each review that you get on your listing even if it is good, bad or neutral.
Receiving a 5-star rating is great. You can further utilize the rating to your advantage by turning the customer into an ardent supporter. However, if you receive a rating below 3-star, make sure you pay attention to those queries. Customers really appreciate it when you pay attention to their concerns and make genuine efforts to avoid bad experiences in the future.
5. Violating Google guidelines is a big no-no.
Try and avoid any sort of penalty-procuring offences because that can lead to permanent suspension of Google My Business account. Account suspension can be really bad for your business. So, make sure you adhere to the Google guidelines.
Here are a few things that you can avoid:
» Imprudent use of keywords in Google My Business listing.
» Multiple listings for the same location
» Abusive behavior or untrustworthy tactics with customers
» Filtering the negative reviews
6. Keep posting content on your GMB page
People keep checking the recently added content to evaluate a business. Make sure you post quality content which is relevant and useful for your customers at frequent intervals of time. Highlight your product or service and drop information about any upcoming events. Use excellent media to update regarding your company's recent advancement.
7. Use insights to optimize your Google My Business listings
GMB has great inbuilt tools to get you unbelievable insights for each post that lets you genuinely understand the user's interaction with your information on Google.
There are a lot of interesting things that you can discover using GMB insights:
» How do customers find your business on Google?
» Where do the customers view your business listings on Google?
» The behavior of your potential customers when they check out your listing- if they visit your site, check out the photos, call you or do nothing.
» Your customer's location
When people visit your business listing?
All these insights can help you to optimize your listings and help you get a fair idea about the scope of improving your listing. Following these tips can definitely help you to gain more customers.
How to use 360-Degree photos to drive traffic to your Google listing?
As discussed earlier, Google is an important part of marketing for each of the business and it is especially beneficial for the small business owners. But most people are unaware that a good portion of Google's search results depends on Maps and Google My Business. The free tool allows you to create a profile about your business wherein you can include photos, website, and address. However, the best part is including photos. The tool allows you to add 360-degree photos to enhance your presence on Google listings.
Creating these 360-degree images is easy. You can either click pictures with a specialized camera or you can use the free Google Street View app on a smartphone. The app can help you click pictures that are overlapping and then binds them together into a perfect 360-degree image. There are chances that your customers have already done the work for you and attached the images to your listing.
The completed listings with photos are likely to add more value to your customers and businesses. According to another study, customers use mapping products 44% of the time when they search for a business. 41% of the searches make the customers end up visiting your business site. As they say, a picture is equivalent to a thousand words and is likely to generate more interest than any of the written part. Imagine, putting a 360-degree image! Research suggests that Google is aware that people like to move around in the image to know more about the place. A 360-degree image provides the best interactivity and an opportunity for your business.
Live example/statics of business growth.
A real-life example can better explain how things work with Google My Business listings.
Below is the graph of a cafe where we can find how the optimization of Google My Business has taken their business from being just a startup cafe to a most prominent hangout place.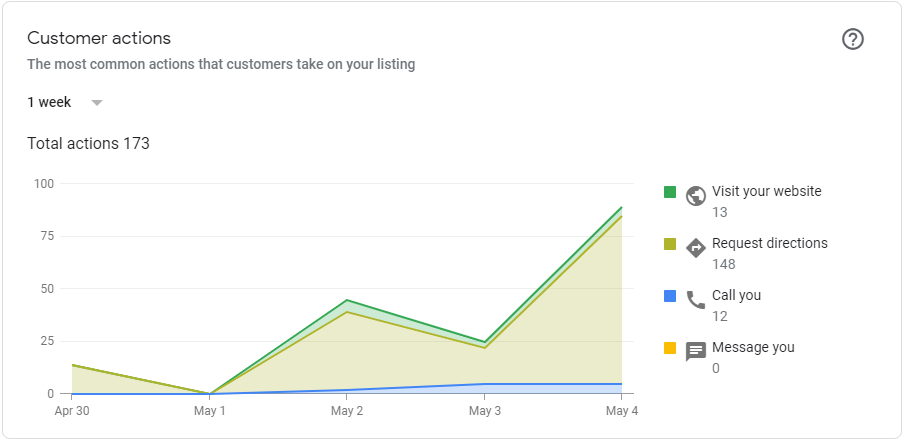 Evolution of Google My Business and the current trend.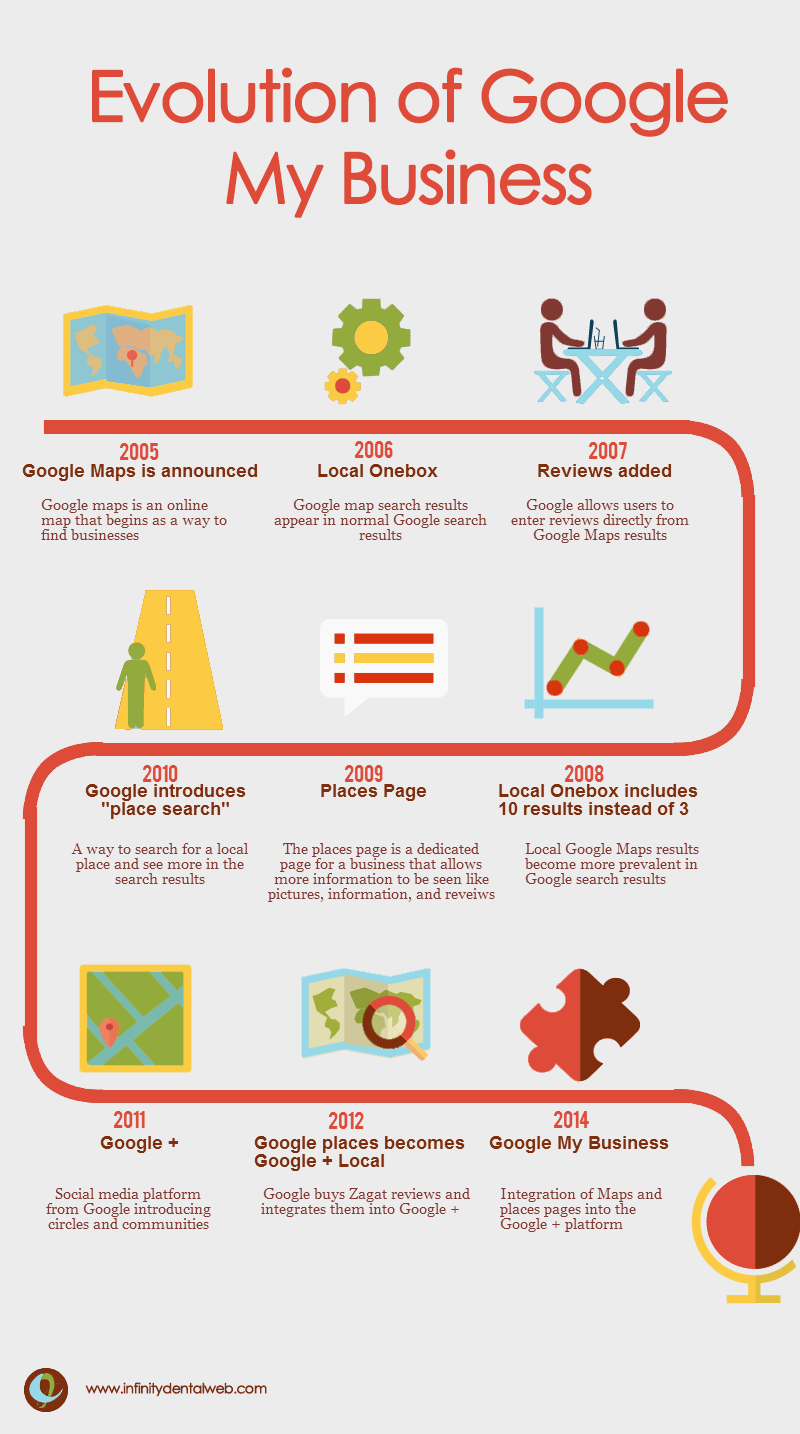 New features launched for optimizing your Google My Business profile.

If you have not optimized your Google My Business profile for a long time, then you should know that Google has been testing some new features that a local business can use to enhance their local search presence.
Here are some amazing features for Google My Business that you need to explore:
Q&A: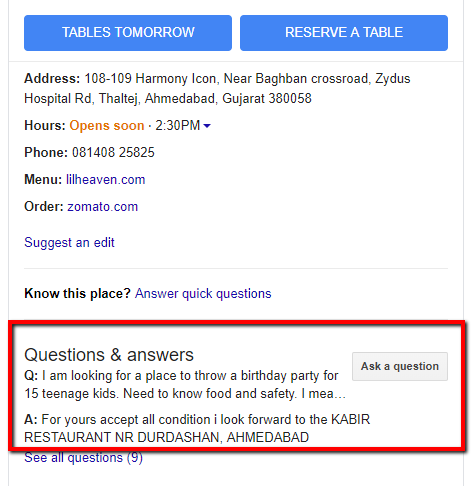 This feature allows the customers to ask a question directly within the business listing. These questions can range from specific queries regarding your products and services to anything regarding your store. The questions can be up-voted to make them rank within your Q and A section. You can also log into Google maps to respond to these questions. You can even flag the non-legitimate comments or complaints.
Descriptions:
Google has re-launched visible business descriptions within the business listing. Descriptions used to be a visible element within GMB but like other features, it was much abused and discontinued. But now it is back! So, the 750 character description can be included once again and describe their brand and products.
Book an Appointment:

Now, you have an option to take your user directly to a landing page or the section where they can book an appointment. This is a unique opportunity to take people right to your landing page and keep them intrigued.
Google Posts: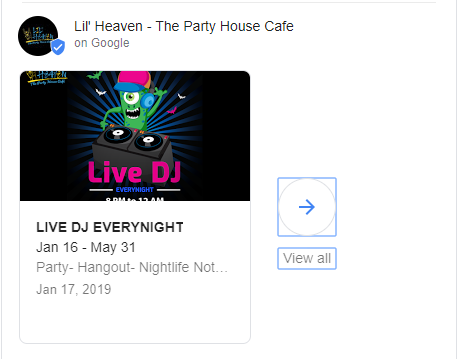 Through the Google posts, you can share your product release, upcoming event or announcement through this feature. Google posts provide a simple way to share an image. You can even share a 100-300 word blurb that shows up in the listing. Accessing Google posts is easy, just go to the GMB page and click on 'posts' to start one.
Analytics

Analytics is important to get more data and insights about the visitors visiting your online business profile. This information is provided by Google My Business platform. There is a feature called My Business Insights that tells you the number of people who have viewed your profile and how did they land in there. It even tells what did the potential customers do after checking out your information on the listing.
These days the business depends on its online presence to build its reputation and grow up as a brand. The reviews are vital but the other information like the local listings, social presence and ranking also matters a lot.
Customers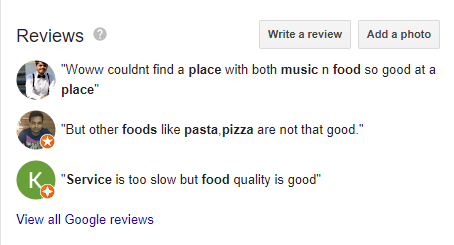 The "customers" tab in Google My Business has undergone too many updates and contains three sections: Reviews, Followers, and Messages. As a business owner, the GMB allows you to track and respond to reviews of your business. You can also build a community under your Followers tab. The messaging feature allows your customers to contact your business with questions and comments.
As local search is continuously evolving it is getting new updates every day and every moment. You need to be aware of these latest updates in Google My Business as Google is going to keep optimizing and finding ways to monetize GMB. You can take advantage of Google's latest features to gain more local business and surpass your competitors.
So, basically, the things that you should take into consideration while planning your online presence are as follows:
» Keyword strategy: If you wish to stay ahead in the competition planning your business strategy is a must. The keyword strategy will be the greatest checklist item to add to your planning list.
» Listingsaccuracy: When people search for branding, there are a lot of chances that they search for your location. So, when you list your information accurately, there are chances of people actually landing at your location. 100% accuracy in the information is recommended.
» Approach GMB with your business vertical in mind: Thinking about how to continue to optimize your listings? We recommend focusing on the actions the users are usually opting for. Also, keep analyzing your own data directly from your dashboard.
According to the latest news, it is said that since Google My Business is being so very helpful for various businesses in being the contact point for their customers, they might decide to charge the service. Google is sending surveys to many of the local businesses to check out if they are ready to pay for some features that are currently free on GMB. So, make sure you fill out your opinions for the surveys.
Stay updated with all the latest news on Google My Business here, as we will be adding more information in the coming days, till then Happy listing!