Get Found on Google with Google Business Profile: The Complete Guide

In a world where online presence is everything, being visible on Google is more important than ever.
But how do you stand out from the crowd and get noticed by potential customers?
The answer lies in Google My Business, and we're here to help you make the most of it.
At Thrillax, we believe that every business deserves to be seen and heard, no matter how big or small. We understand that building a business takes hard work, dedication, and passion, and that's why we're passionate about helping you succeed.
We're not just another digital marketing company – we're a team of experts who are dedicated to helping businesses like yours get the recognition they deserve.
With our complete guide to Google Business Profile, you'll learn how to create and optimize your Google Business Profile to attract more customers, drive traffic to your website, and ultimately, grow your business.
Have a look at our Google Business Profile with you, which provides a quick and convenient way to get a snapshot of who we are and what we do. Our profile includes essential information such as our location, hours of operation, customer reviews, and even photos of our team and products.
By visiting our Google Business Profile at g.page/thrillax, you'll gain a deeper understanding of what sets us apart from the competition. Plus, you can also leave a review and let us know about your experience with our business!
Listing your business on Search and Maps is essential for increasing your online visibility and attracting more customers to your business.
🤔Here are a few reasons why it's important to list your business on Search and Maps:
1) Increased Online Visibility: By listing your business on Search and Maps, you'll be more visible to potential customers who are actively searching for businesses like yours. This can lead to increased traffic to your website, more phone calls, and ultimately, more business.
2) Better Search Engine Rankings: Google My Business is a key component of local search engine optimization (SEO). By optimizing your business listing, you can improve your chances of appearing in the top search results for relevant keywords.
3) Improved Customer Trust: When customers see that your business is listed on Google, it can help build trust and credibility. They'll know that you're a legitimate business and will be more likely to do business with you.
4) Access to Valuable Insights: Google My Business provides valuable insights about your customers, such as where they're coming from and what they're searching for. This information can help you better understand your target audience and make informed decisions about your business.
✍🏻Setting up a Google Business Profile is easy and straightforward. Here is a step-by-step guide to help you get started:
1) Go to Google My Business: Visit the Google My Business website (https://www.google.com/business/) and click on the "Manage Now" button.
2) Sign in or Create an Account: If you have a Google account, sign in to it. If not, you'll need to create one to get started.
3) Add Your Business Information: Once you've signed in, you'll need to enter your business information, including your business name, address, phone number, website URL, and business category.
4) Verify Your Business: Google will need to verify that you are the owner of the business before you can complete the setup process. Verification options may include phone verification, email verification, or postcard verification.
5) Optimize Your Profile: Once your business is verified, it's time to optimize your profile. Add photos, business hours, a business description, and other details that will help customers find and learn more about your business.
6) Monitor and Manage Your Profile: Keep an eye on your Google Business Profile and update it regularly to ensure that it's accurate and up-to-date. Respond to customer reviews and questions promptly, and use the insights provided by Google to learn more about your customers and how they're finding your business.
By following these steps, you can create a comprehensive and optimized Google Business Profile that will help you get found by potential customers and grow your business.
👏Advantages of Google My Business:
1) It's free: You can create a GMB profile for free and enjoy all the benefits that come with it.
2) Virtual tour: Sharing photos and videos on your GMB profile can give your customers a virtual tour of your business and help them get a better understanding of what you have to offer.
3) Easy access: Your customers can easily access your phone number and address with just one click, making it convenient for them to contact you.
4) Reputation management: GMB allows you to manage your online reputation and interact with customers in a simple and efficient way.
5) Comprehensive features: GMB is integrated with AdWords, Insights, Google+, Maps and Search, giving you access to a range of features that can help you maintain your online presence.
6) Direct connection: With GMB, customers can easily find your business and connect with you directly, increasing your chances of getting more customers.
🤔 How to optimize GMB to help your customers find you easily:
Now that you know the advantages of Google Business Profile (Earlier known as GMB), here are some tips on how to optimize your profile to help your customers find you easily:
1) Perfect your profile: Make sure your profile is accurate, comprehensive, and up-to-date. Your profile is the first thing people notice about your business when they come across it on a search listing. Fill out all necessary sections of your profile, including your business name, address, phone number, business category, and description.
2) Consistent information: Ensure that your business information is consistent across the web. Any inconsistencies in your business name, address, or phone number can have a negative impact on your Google ranking.
3) High-quality images: Upload high-resolution images of your business to your GMB profile, including your profile photo, logo, cover photos, and a 360-degree view of your business.
4) Collect reviews: Encourage your customers to leave reviews on your GMB profile. Good reviews can help improve your visibility in search results and increase your customers' trust in your brand. Be sure to respond to all reviews, even negative ones, and address any concerns your customers may have.
5) Follow Google guidelines: Avoid violating Google guidelines, as this could result in a permanent suspension of your GMB account. Adhering to Google guidelines is crucial to maintaining a positive online presence for your business.
🧐 GMB insights provide valuable information about your business, such as:
How customers are discovering your business on Google
Where customers are viewing your business listings on Google
The behavior of potential customers when they interact with your listing, such as visiting your website, checking out photos, or making a call
The locations of your customers
By analysing this data, you can gain insights into your customers' preferences and behaviors, allowing you to optimize your online presence and improve your business performance.
Simple guidelines to maintain your Google Business Profile
Use keywords judiciously in your Google My Business listing and avoid stuffing them.
Don't create multiple listings for the same location. This can confuse customers and harm your ranking.
Avoid abusive or untrustworthy behavior with customers as it can damage your reputation and credibility.
Don't filter negative reviews, as it can create an impression that you're not open to feedback and can harm your business's reputation.
Ensure that your Google My Business profile has accurate and up-to-date information, including your business hours, phone number, and address.
Respond promptly to customer reviews and messages, as it shows that you value your customers' opinions and are committed to providing good service.
Don't use stock or copyrighted images without permission in your GMB profile or website.
Avoid posting fake reviews or soliciting others to post fake reviews, as it can harm your business's reputation.
Don't violate Google's terms of service by using a virtual office or P.O. box instead of a physical storefront or using a fake business name.
Here are some amazing features for Google Business  Profile that you need to explore:
Q&A: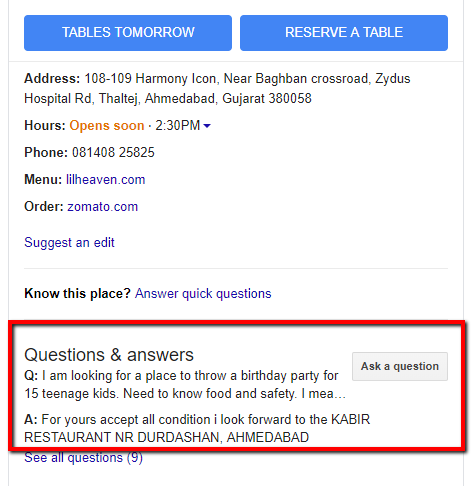 This feature allows the customers to ask a question directly within the business listing. These questions can range from specific queries regarding your products and services to anything regarding your store. The questions can be up-voted to make them rank within your Q and A section. You can also log into Google maps to respond to these questions. You can even flag the non-legitimate comments or complaints.
Descriptions:
Google has re-launched visible business descriptions within the business listing. Descriptions used to be a visible element within GMB but like other features, it was much abused and discontinued. But now it is back! So, the 750 character description can be included once again and describe their brand and products.
Book an Appointment:

Now, you have an option to take your user directly to a landing page or the section where they can book an appointment. This is a unique opportunity to take people right to your landing page and keep them intrigued.
Google Posts: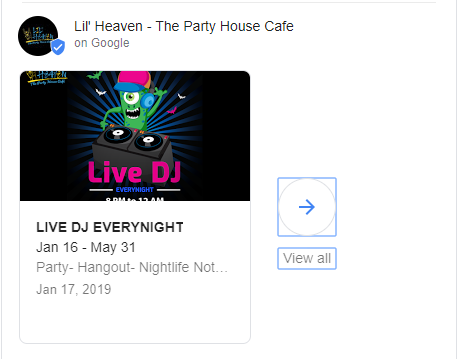 Through the Google posts, you can share your product release, upcoming event or announcement through this feature. Google posts provide a simple way to share an image. You can even share a 100-300 word blurb that shows up in the listing. Accessing Google posts is easy, just go to the GMB page and click on 'posts' to start one.
Analytics

Analytics is important to get more data and insights about the visitors visiting your online business profile. This information is provided by Google My Business platform. There is a feature called My Business Insights that tells you the number of people who have viewed your profile and how did they land in there. It even tells what did the potential customers do after checking out your information on the listing.
These days the business depends on its online presence to build its reputation and grow up as a brand. The reviews are vital but the other information like the local listings, social presence and ranking also matters a lot.
Customers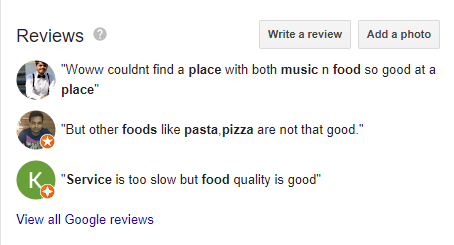 The "customers" tab in Google Business Profile has undergone too many updates and contains three sections: Reviews, Followers, and Messages. As a business owner, the GBP allows you to track and respond to reviews of your business. You can also build a community under your Followers tab. The messaging feature allows your customers to contact your business with questions and comments.
As local search is continuously evolving it is getting new updates every day and every moment. You need to be aware of these latest updates in Google Business Profile as Google is going to keep optimising and finding ways to monetise GBP.
👋🏻 Whether you are a small startup or a large corporation, it is essential to pay attention to the finer details to stay ahead of the competition. From keyword strategy to accurate listings, each aspect plays a crucial role in building a strong brand image online.
By focusing on keyword strategy, you can ensure that your brand stays at the forefront of the minds of potential customers.
Accurate listings, on the other hand, make it easy for people to find your location and can help increase foot traffic to your storefront.
And by approaching GBP with your business vertical in mind, you can analyse data and optimise your listings for the actions that users are typically taking.
🧐 Remember, when it comes to building an online presence, the devil is in the details.
By paying attention to these crucial elements, you can create a positive experience for your customers and stay ahead of the game.
So, take the time to plan your strategy and make sure that your business is represented accurately and effectively online.