How to Like, Comment, and Share Posts as a Company on LinkedIn?

LinkedIn is an incredible social media platform to gain visibility for your company. It offers a plethora of features to company CEOs & business owners to engage with potential employees as well as clients.
One way to do that is by participating as a company or business in the conversation instead of as an individual.
In other words, you need to engage with others on LinkedIn by liking, commenting, and sharing other people's posts via your Linkedin company page.
Unfortunately, only a few companies leverage this feature to their advantage.
If you manage the LinkedIn page of your company, you'd be happy to know that it's very straightforward to engage with others on the platform as a company.
In this post, we've shared the complete, step-by-step process on how to like, comment, and share posts as a company on LinkedIn.
Afterward, we will also shed some light on the benefits of doing this activity on a regular basis.
How to Like, Comment, & Share a LinkedIn Post as a Company
There are two different methods for liking, commenting, and sharing a LinkedIn post as a business or company profile.
The first one is easy and pretty straightforward.
The second method is complicated as it requires saving the Id of your LinkedIn company page and entering the same at the end of the URL of a post you wish to engage on as a business or company profile.
Below, we will show you how to use each method separately for liking, commenting, and sharing a LinkedIn post as a company.
Method #1
Nowadays, engaging on LinkedIn posts as a company is not as difficult as you think.
All you need to do is, open the post you wish to engage on using your business or company LinkedIn profile.
After that, click on the profile picture thumbnail located at the left side of the like, comment, and share buttons as shown in the below screenshot.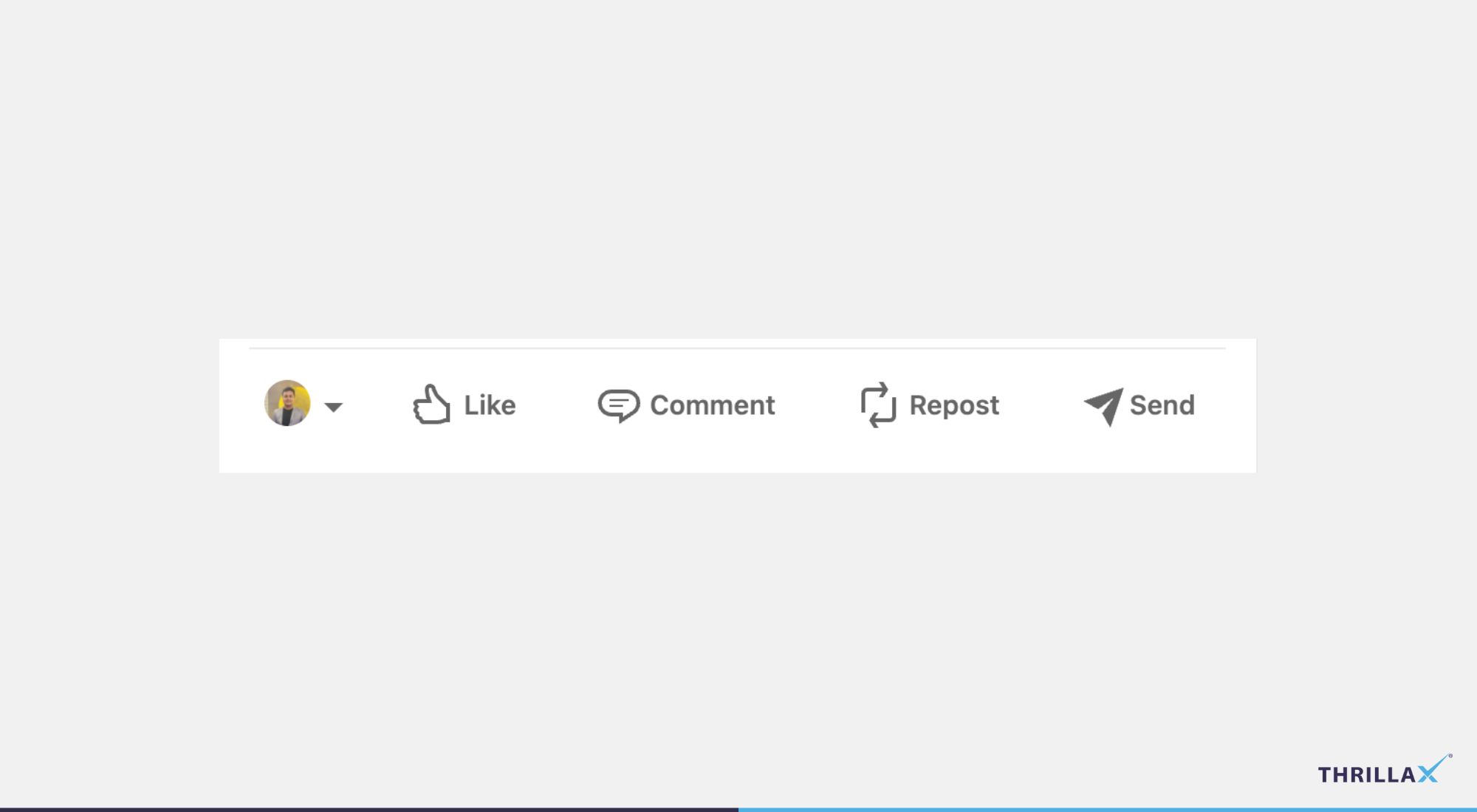 Next, select your company's LinkedIn company page profile from the options as shown in the screenshot below.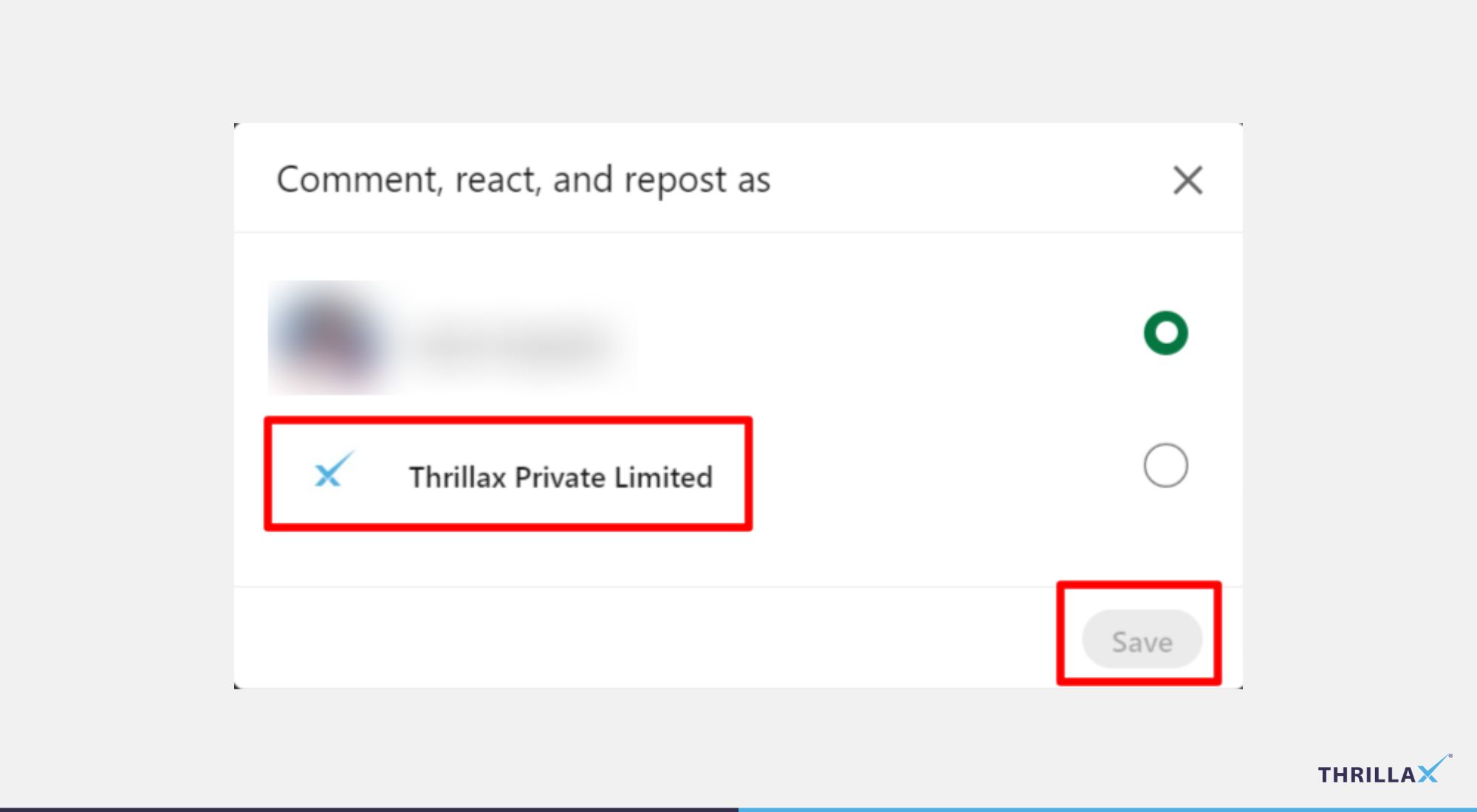 Lastly, click on the "Save" button to finish the process.
After doing this, each post you like, comment on, or share will be done via your company's LinkedIn page instead of your personal profile.
Method #2
As stated earlier, the second method is a bit complicated and requires following several steps.
Here are the steps you need to follow to like, comment, and share LinkedIn posts as a company using the second method.
Step 1
First of all, log into your LinkedIn account on which you've access to your LinkedIn company page.
Once you've logged into your account, click on the "Me" section from the navigation bar.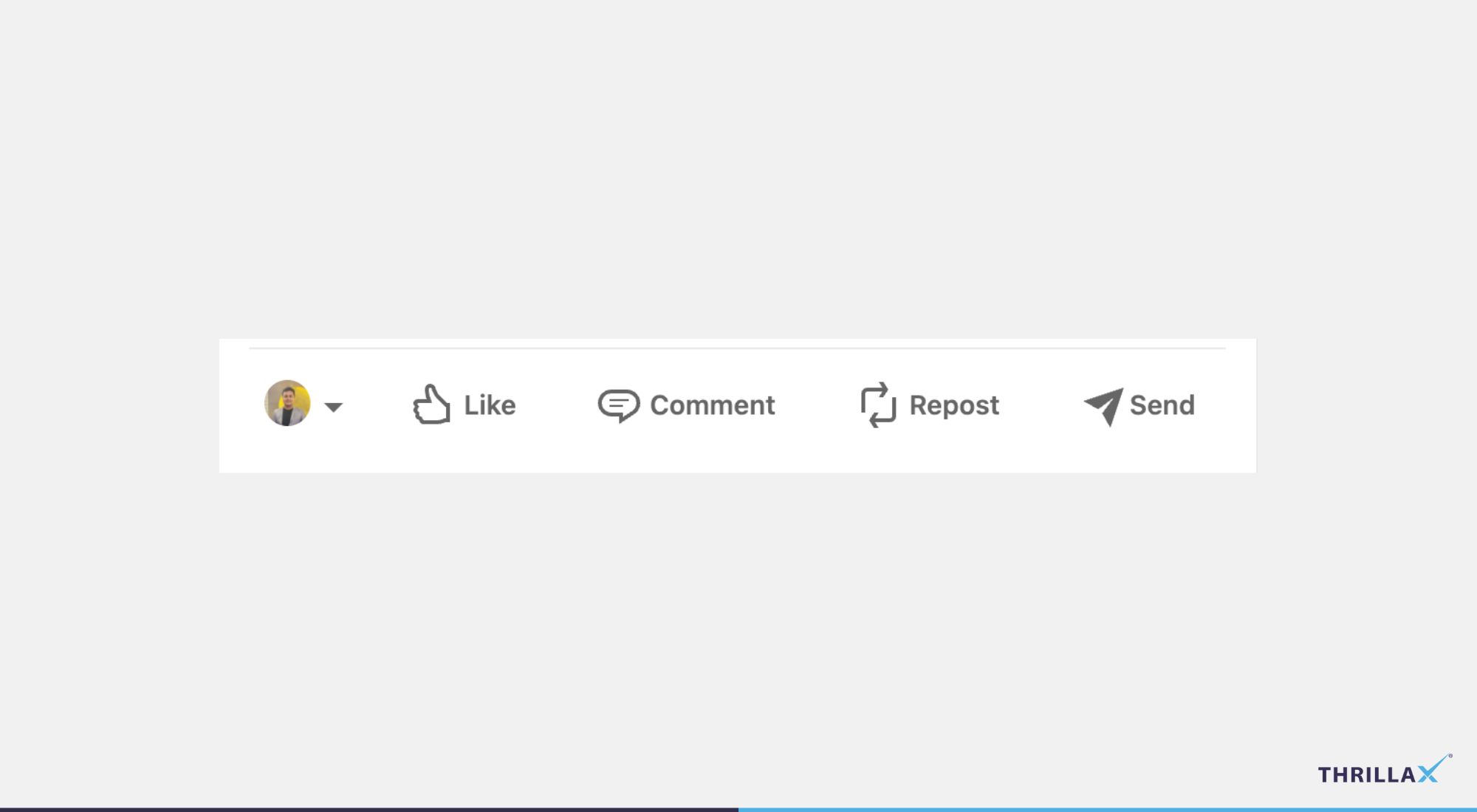 Here, you'll see two sections: Account & Manage.
Under the Manage section, click on the Company LinkedIn page option.
Step 2
In the 2nd step, you need to head over to the URL of your LinkedIn company page and note down the numbers in the URL as shown in the below screenshot.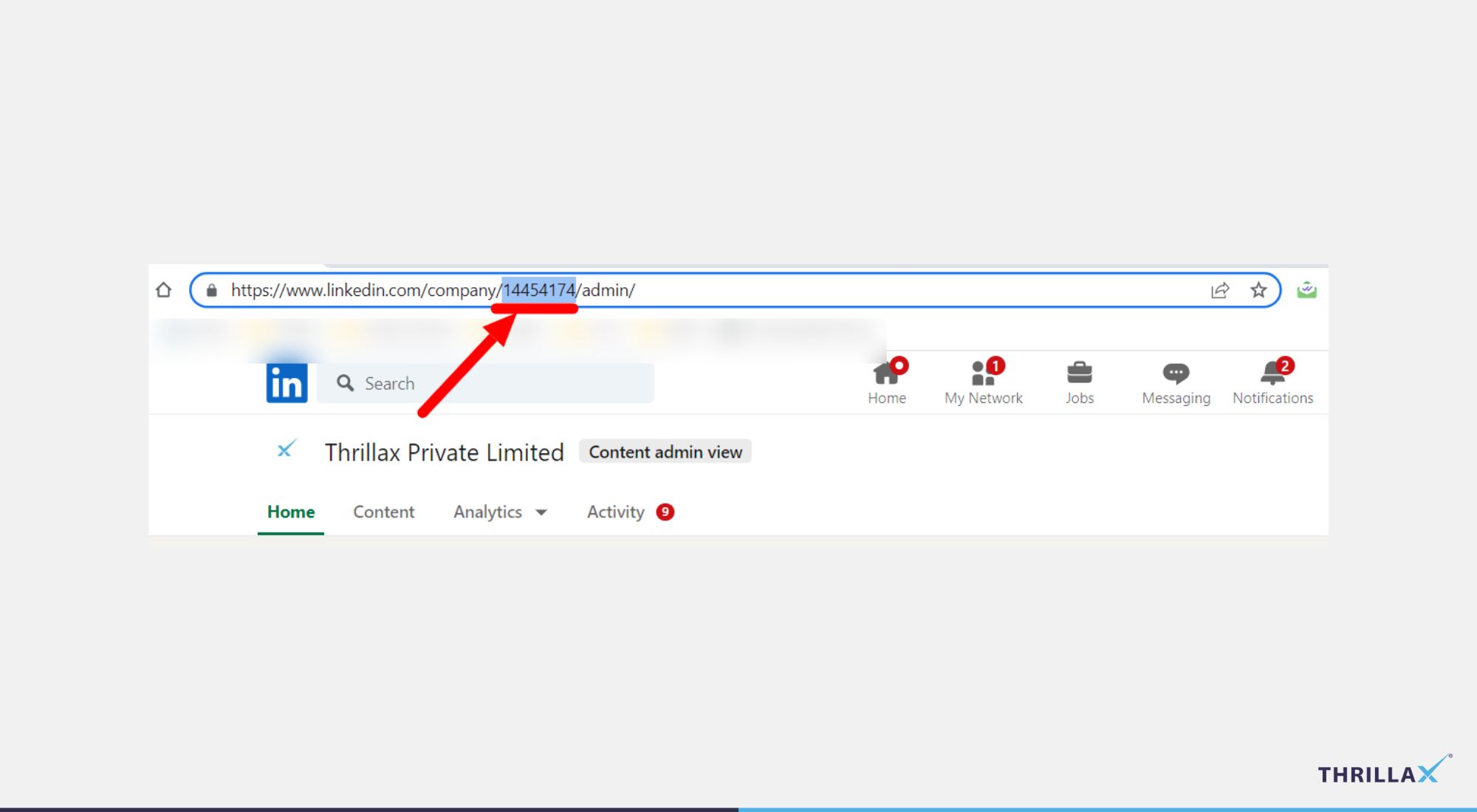 The number you just copied from the URL is your company's unique identification number on the LinkedIn platform. You'll need this number in the coming steps so save it somewhere on your system.
Step 3
After you have the LinkedIn ID of your company's profile, go to the post you want to like, comment on, or share as a company page instead of as an individual.
Next, click on the three dots placed at the upper-right corner of the post and click on the "copy link to post" option as shown below.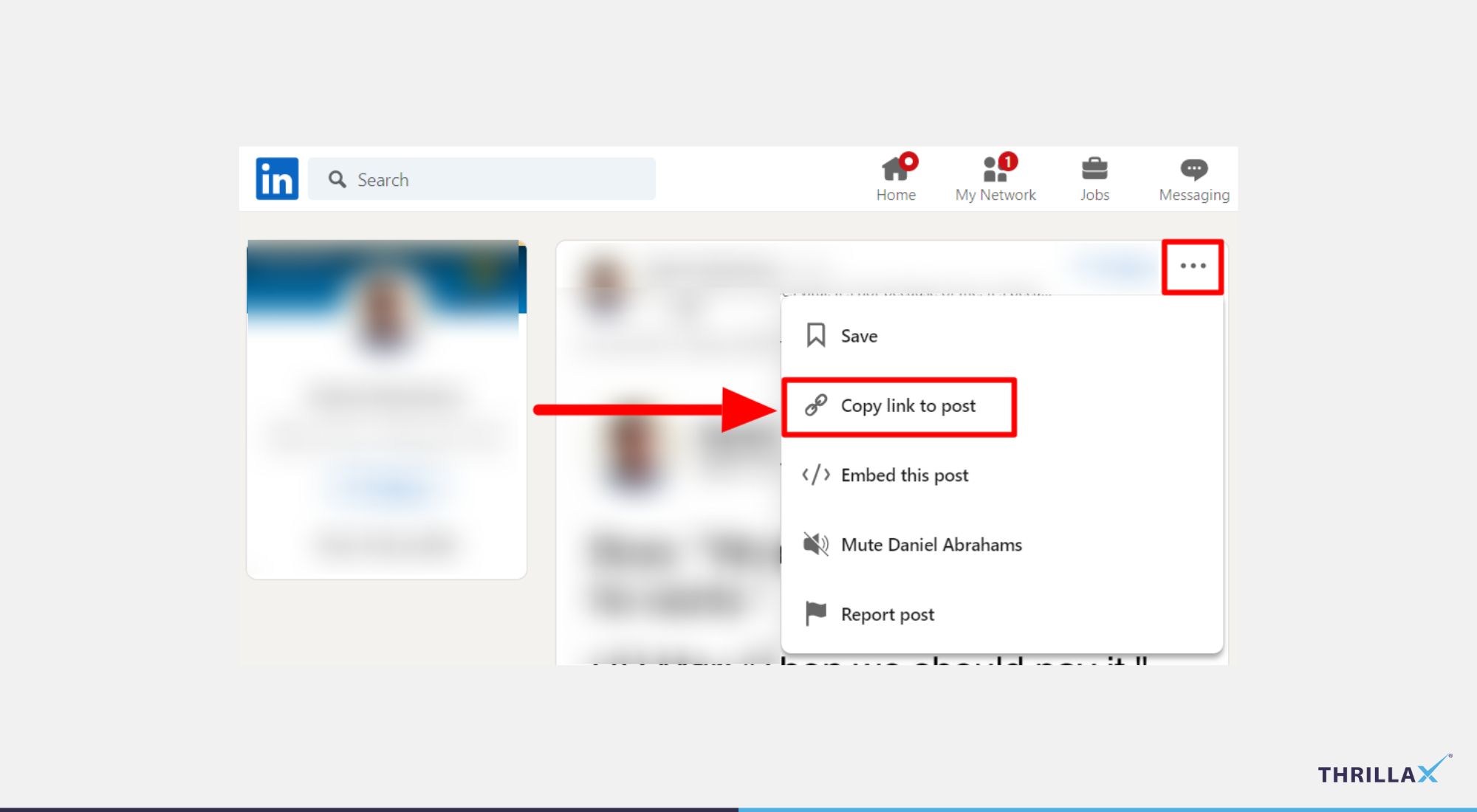 Now, paste the post link you just copied in a new browser window and proceed for the next step.
Step 4
Once you open the post in a separate browser window, go to the URL of the post and add "/?actorCompanyId=" and your company's LinkedIn ID after the equals symbol in the URL.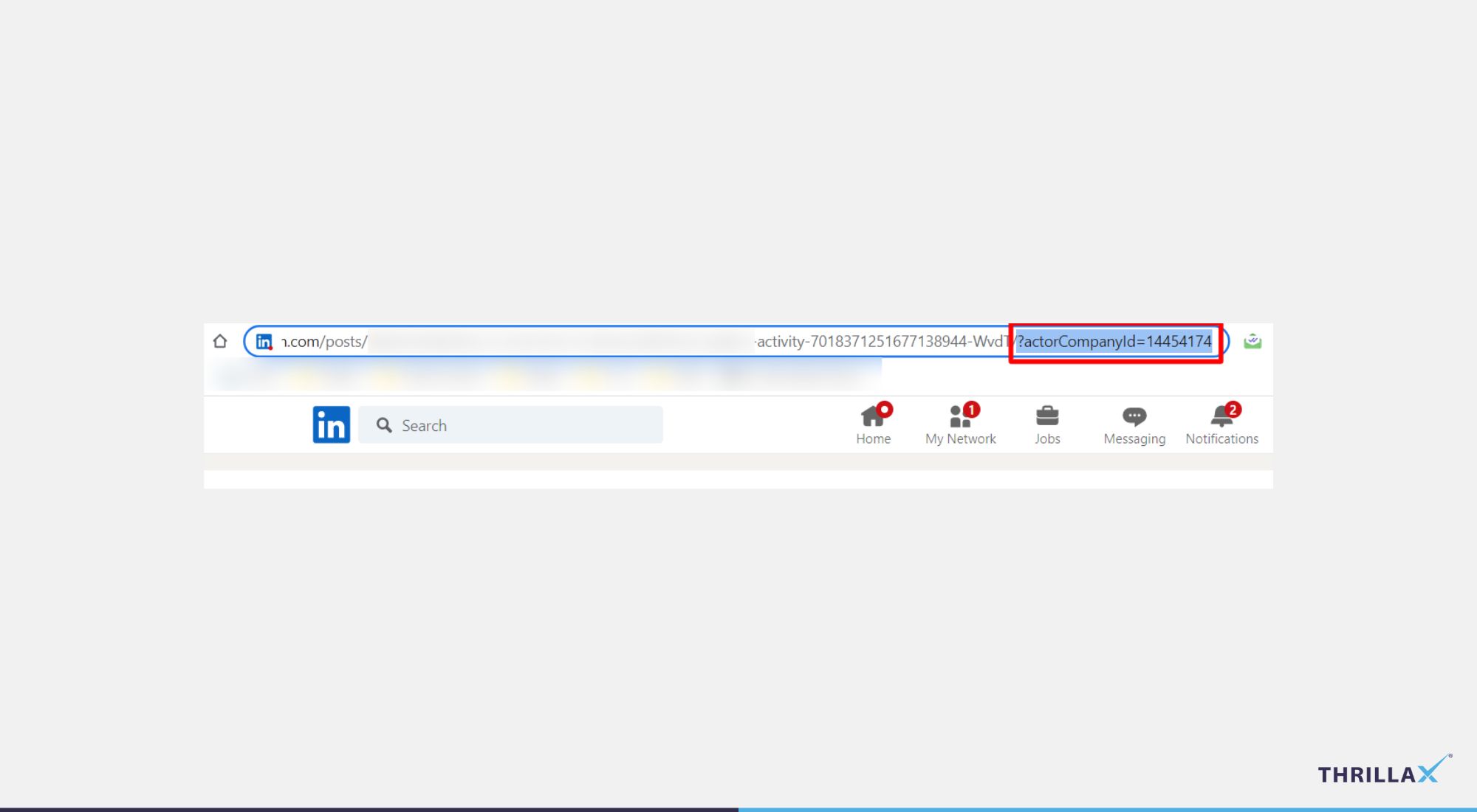 After adding your company's LinkedIn ID, hit the enter button on your keyboard.
Step 5
Once the page is reloaded, you'll be able to see your LinkedIn company page's profile image instead of your personal account.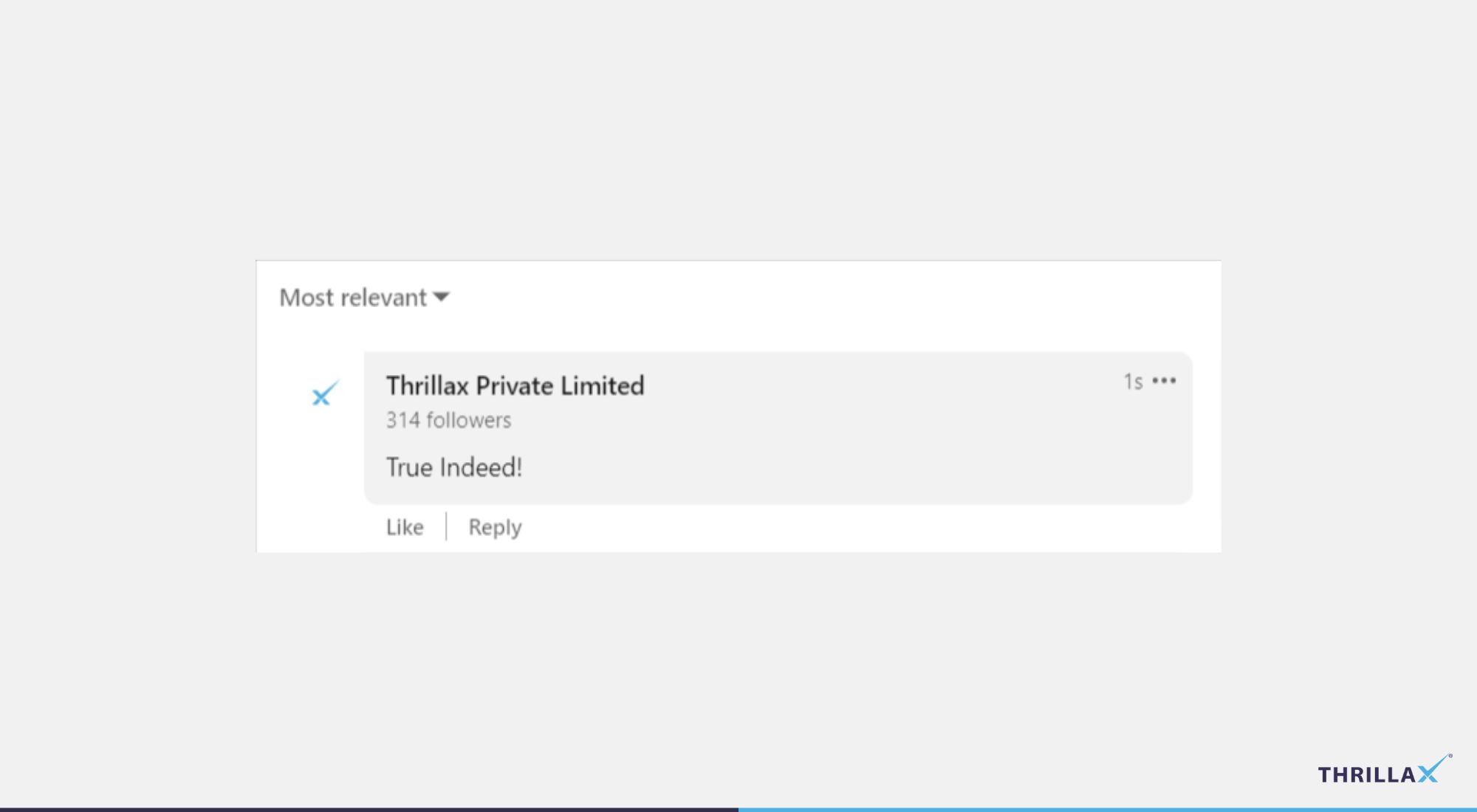 Now, you can like, comment, or share the post as a Company page on LinkedIn.
Benefits of Engaging with a LinkedIn Business Page
There are numerous benefits of engaging on LinkedIn as an official company page.
Here are the 5 most important benefits of using your LinkedIn company page to engage with others.
Build Professional Network
If you're a business owner, LinkedIn is by far the best social media platform that offers a perfect environment for building your professional network.
On LinkedIn, you can read reviews, check certifications, work experience, and a lot more before making contact with a new connection.
Plus, when you visit a potential connection's profile, it will reveal the degree of separation between you and the potential connection.
In simple words, LinkedIn allows you to see mutual connections with third parties. As a business, this information can be really helpful in growing your professional network as well as clientele.
For example, if you look at one of your employee's LinkedIn profiles and your employee knows a potential client, LinkedIn will immediately show you that your employee knows one of the potential clients you're highly interested in onboarding.
This can be incredibly helpful in making an introduction to a future client.
Increase Exposure for your Products or Services
Apart from the professional network, LinkedIn can increase exposure of your latest products or services.
You see, one of the reasons why the majority of people follow brands and company pages on social media is to be up to date about the latest products launched by them.
In fact, over 50% of companies have admitted that they've generated a considerable number of sales through social media platforms (including LinkedIn).
With your LinkedIn company page, you can promote your new products or services and explain how they'll help potential customers.
Additionally, you can also include links to your product pages on your website to help potential customers find more information and make a purchase.
Draw Quality Employees
On top of increasing exposure for your products or services, your LinkedIn company page also allows you to post job opportunities.
LinkedIn is already a preferred platform for members seeking employment. And LinkedIn gives you a perfect opportunity to promote job vacancies at your organization and fill vacant positions with highly-qualified employees.
The LinkedIn job posting feature lets you share everything related to the specific job requirement including skills, years of experience, education qualifications, and so on.
Once you update the information, potential candidates will automatically start seeing your job vacancy on LinkedIn and even apply for the same directly on the platform.
Stand Out from Competitors
Standing out from competitors is vital to win potential clients in any industry. And LinkedIn gives you a unique opportunity with its company description feature.
In your company description, you can emphasize on how your company is different from your competitors in different aspects, share company news, and even talk about the company's vision, mission, and values.
Apart from this, you can even share photos, infographics, and story-telling to establish an authentic and positive impression of your company on the platform.
Using photos, infographics, and other type of visuals gives more idea to your potential clients about how your company thinks and operates.
Attract New Prospects
Last but not least, LinkedIn offers a great opportunity to attract new prospects via recommendations from past clients.
For the uninitiated, LinkedIn recommendations are like customer reviews that are highlighted on your LinkedIn company profile.
By receiving recommendations on LinkedIn, you can present your company as a great service provider and use your past client's testimonials as a proof.
After all, who wouldn't want to hire a company that has numerous positive reviews from people who needed the same services as you do now?
Concluding Thoughts…
This is how you can like, comment, and share posts on LinkedIn as a company.
Hopefully, this little trick will help you to grow your company's reputation and following on LinkedIn. So start engaging more often on LinkedIn as a company and you'll start improving your company image as a reputable and trustworthy in no time!