How do SEO, digital marketing and customer experience go hand-in-hand?

Nike has recently opened a new flagship store in New York. It is called the Nike House of Innovation 000. The store embraces technology and digitalization along with selling the wider shoe assortment of the brand. The digitalization includes swoosh customization, QR codes, prompt checkout, pickup area, Sneakerlab and much more.
While the business is about search engine optimization and digital marketing these days, it is the customer experience that matters the most. Ultimately, you have to understand that SEO, digital marketing and customer experience do go hand-in-hand.
Even with amazing SEO and digital marketing results, you might end up having nothing if your customers don't get a worthy experience from the start to finish.
Since our launch, we at Thrillax, have been considered the customer experience to be the key. We have delivered the best possible experience for our clients and we believe that you wish to deliver the same unwavering customer experience to your target audience.
All in all, providing a customer or client with a flawless experience with your business should be nearly easy. It requires treating them well, giving them a fabulous product or service and being trustworthy and timely. But, remember that being timely can mean a lot of things to different people when we are in the age of immediate satisfaction.
Customer experience is not about taking steps when the house is already on fire. It starts the moment a person lays his eyes on your business and your online reviews. Eventually, you need to guarantee that you have your SEO tactic for each step of the Customer Experience, where digital is a touchpoint. It is not just about keywords anymore, Google is now as enthusiastic about your context and intention. So, it is not only about what someone is searching for but the reason behind it.
Considering customer experience for planning your SEO indicates that you're expecting your customer's comprehensive goal.
Improving Customer Experience
It is essential for your business to stand out from the competition. It means to engage with your customer by offering business and comfort, a sense of refinement, innovation or happiness. Your purpose should drive your customer to go for a closer of the deal right from the moment they start.
You need to know that customer experience is no longer supposed to be a luxury that an offered by a business to its clients. However, it is a critical preference which needs to be taken sincerely. They say that there's not a thing called bad publicity. However, that is not really true. Be very convinced that your reputation is a precious asset and especially when you are online.
According to a study in Inc.com, 84% of shoppers agreed that they trusted the online business reviews equivalent to personal recommendations from their families and friends. And as we all are well aware that the reviews are always about the customer experience. So, when you are dealing with a world full of review sites like Yelp, Google, Facebook, Amazon, etc. you must know that it becomes an easy way to get the experience, either good or bad documented easily. These documented experiences are available to potential customers all over the world for a very long time and they are easily accessible too.
Intensified Customer Experience boosts SEO
Believe it or not, online reviews do matter to Local SEO. Why? It is because customers prefer online reviews. Online review websites are in the market of foretelling likely purchases of buyers.
So, it is mandatory that you regularly leave a good, permanent impression on your customers from the commencement. But imagine what happens if there is a crisis after all that you do? How can you fortify your brand facing unhappy clients? Don't worry, the problem can be solved quickly when you follow up. Step up and acknowledge when you go wrong. Be transparent and human with your customers and if you are unable to help directly, find a way to help them somehow. A bad review is nothing but a conversation that lacks clarity.
We believe, customer experience starts even before any purchase is made or before the visitor sought out your service. So, you need to treat each customer as an opportunity to discover.
6 ways in which you can integrate SEO and customer experience
1. Reflect above-the-line advertising
Your customers look for the connections between the advertisements and your real website. Your brand should be represented in the same way even if a user searches for you online or offline. If the users are able to connect with your creatives and other forms of advertisement that you put on different media. Consistency matters and keeping things consistent online and offline guarantees that if a user searches for your website after checking out an advertisement, they should know they have arrived at the right place.
Help your customers to find what they actually need. Applying user-friendly SEO strategies can definitely earn you great rewards from Google.
The customers usually turn to search engines to check out how to use your products and solve their issues by creating the content that addresses your concerns. SEO can be used as one of the powerful service strategies.


For example Nike, a shoe company – it has a trademark statement 'Just do it'.
The three words are a core component of the company. Each advertisement that the company puts on TV or the internet goes with the trademark statement of Nike. When people hear 'Just do it' they can instantly relate it with Nike. This is called above-the-line advertising.
2. Mapping the buying process
It is necessary to study the buying behavior of your potential buyers. It is extremely essential to follow the process which people are adopting in order to make your content communicate with them. If you find a few websites appearing in the search results for certain specific phrases, you might want to put your content on those websites. That is the best way to be found by generating links from those websites and being visible in the user's search course. In this way, you can ensure to be at the right place at the right time with the right content.
Here is what you can do while you consider mapping your customer's journey and identify various issues and queries at different stages of product purchase:
Discovery stage: Emphasise the product features, advantages, and case studies.
Reflection stage: Concentrate on product comparisons, detailed whitepapers, product guide, and endorsements.
Choice stage: The major focus should be on pricing pages, reviews, purchasing guides and deals.
Assistance stage: Focus mainly on the FAQs, support pages, user guides, and maintenance help.
By designing and optimizing content for each stage in the process of a user, you can immensely improve customer experience.
For example Amazon-
>> Discovery: When a user first visits the website and searches for a product, suppose it is a smartphone. The product description is displayed with the features and advantages of the product.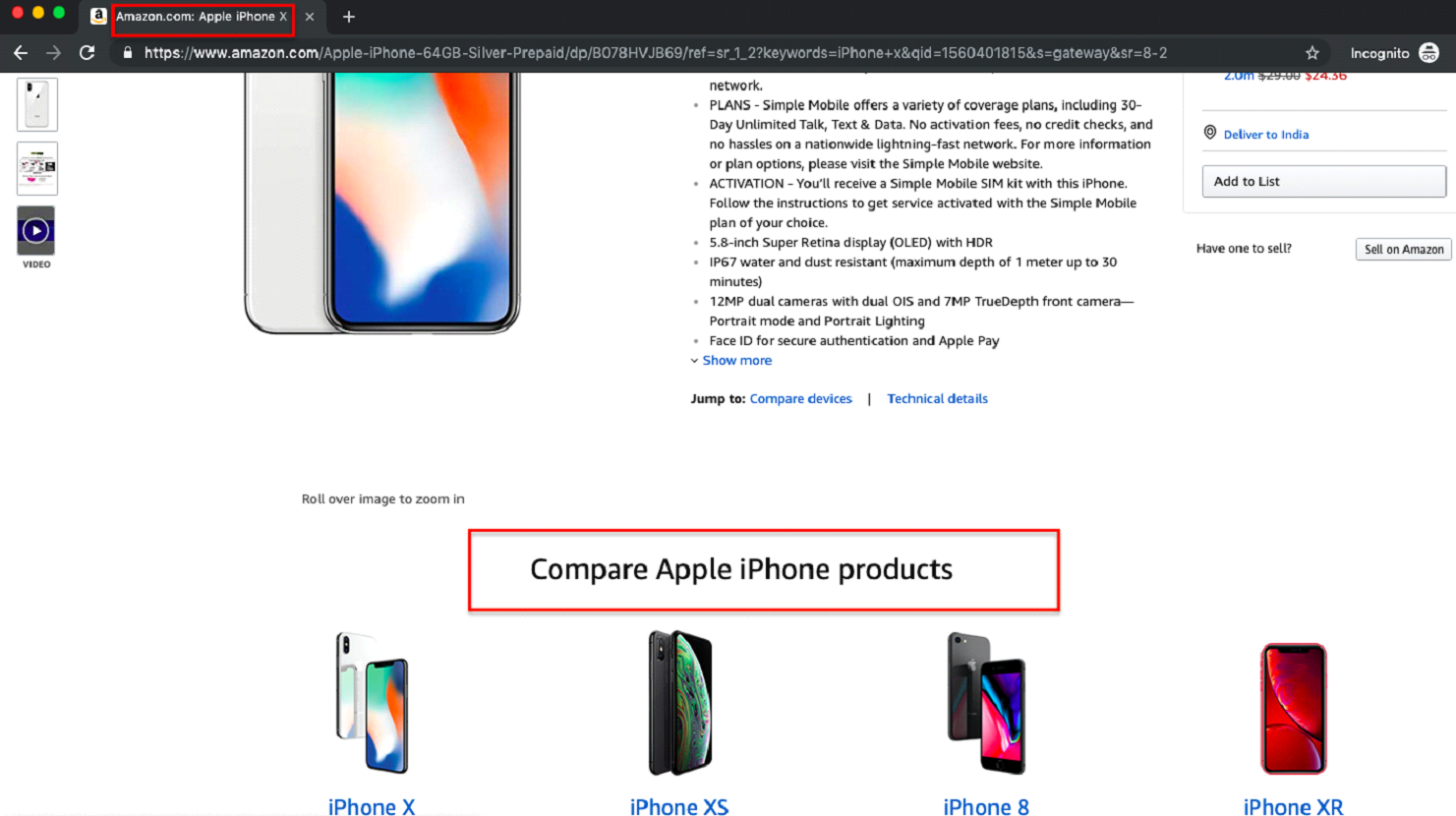 >> Reflection: The user is then provided with a comparison between various smartphones according to the price range entered.
>> Choice: The user is presented with pricing, reviews, and similar products.
>> Assistance: Once the user purchases the product, all they look for is customer support in case they have queries regarding the payment, delivery or return policy. The user looks for FAQs and user guides in regards to using the product also. This comes under the maintenance stage.
3. Post-purchase
One person buys a product or uses a service, he doesn't stop there. People seem to keep searching for the support queries, reviews, and other related topics post their purchase. Being updated with such queries and engaging the users can help you in creating brand advocates. By helping the users post their purchasing promotes, boosts and ensures that the customers come back to you again and again.
4. Use personas and tone of voice
The tone of content plays an important role when you direct content towards your customers. It is recommended that you use a character to ensure the use of right expression while addressing the target audience when the copy is written. If you are wrong doesn't mean that your website will not work but it could add some conflict which you need to avoid to provide your customers with better customer experience.
5. Display your readers marketing channels
People these days carry out most of their searches on their phone, and it is, therefore, indispensable that you have your mobile strategy in place. Also, you should keep the desktop version of your website set in the proper place as most of your B2B audience is expected to look for the desktop version of your website.
Check out somethings by carrying out some searches on mobiles and desktops for your main key-phrases. You need to check who comes up in the search and who the competitors are. If there are zero results shown on Google it might be worth for you to include some of those phrases in PPC. SEO KPIs can be useful to plan your marketing strategies.
6. Improve your website speed
The last but never the least, your website's speed matters. Google uses the website speed as a ranking factor since the year 2010. Also, according to a recent update, Google is also considering the mobile site speed to determine your search rankings.
A faster site also has SEO benefit along with a marked on customer experience and user interface and engagement levels.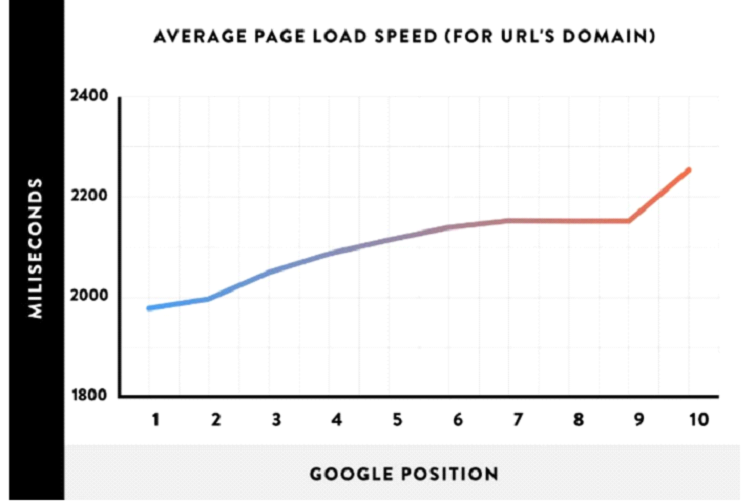 If you want to win at SEO, you need to improve website speed and when improving site speed you will also get a better customer experience. There are some strategies that can be used to improve the load time like compressing your page and images and reducing the number of plugins and also hosting your website on a dedicated server. According to Google, the ideal load time for a website is 500 milliseconds.
So, if you are still focused on your SEO efforts only to build backlinks and keyword- stuffed content, there are chances of reconsideration. If rightly used, SEO can turn into a persuasive customer benefit and service weapon.
SEO and customer experience do have a close association. The steps which you put forward to improve your SEO will have an assertive influence on your customer experience.
Please comment below if you wish to know more about how SEO can be used to provide a better customer experience. You can also share examples with us if you have some. Feel free to share this blog with other readers too.