Is social media marketing really a good investment for your business?
One of the most difficult things to calculate for the business owners is to estimate the ROI of their social media marketing. Many times, we understand that there are complaints about all of the time wasted during posting pictures and updates on social media channels which get just one or two likes and maybe a few comments. Looking at this scenario, the business owners feel that the money spent on social media marketing is just going into a black hole and there are no chances of getting a return.
But the actual problem is a lack of understanding of the process of social media marketing and how it can help you in the long run. It is not necessary that you can get a high ROI from social media marketing right out of the gate. But that is applicable to every existing marketing strategy.
Unless a customer buys a product from your company and shows that they came to you based on a specific marketing channel, tracking down an exact ROI can be complicated for all marketing campaigns.
There are billions of active users on social media channels and your business cannot take chance by not getting into social marketing. According to the Pew Research Center, the number of people turning to social media to get their news from social media has doubled since the year 2010 from 9% to 19%.
Here is a graph from Statista.com showing the number of social media users worldwide from the year 2010 to 2021: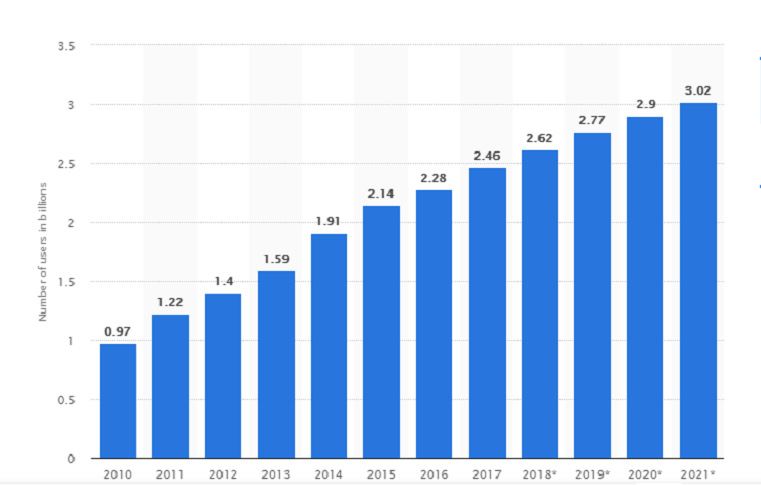 These social media channels enable your customers to directly interact with your firm. Customers view this as an immediate line from them to your business. Your customers or potential customers can use these platforms to convey their positive or negative feedback about their experiences. They can even share your content with their family and friends. This gives your business more exposure and the chance to reach a new bunch of audience who may or may not have known about your business previously. You can think this as another form of word-of-mouth advertising where a bunch of people speaks to other users about your products. This is similar to how we use to do it in real life. Just the medium of exchange has changed and now people are doing more on social media now more than ever.
Now, if you are aware that you are the talk of the town online, will it not do you good if you jump and join the conversation? Previously, it was a time when the consumer was at the bottom of the pyramid. But now, the customer is what matters for the prosperity of your business. Businesses need to focus more and put more efforts to satisfy the customers otherwise the consequences could be devastating.
There are man small businesses which do not have a huge amount of money to back themselves. So, they are very careful about the type of marketing strategies they invest in. When you have an insufficient marketing budget, it becomes important for you to spend it wisely to get better ROI.
Marketing over social media is one of the most resourceful and cost-effective approaches that small firms can use to reach their target audience and increase sales over time. That is why 97% of marketers are said to be using social media to influence their audiences.
Want to know more about why social media is a great marketing strategy for you to invest in? Well, apart from reaching a lot of potential customers, here are a few other reasons that can convince you to go for social media marketing:
1. Consumers will be more responsive to your information when you market over social media.
Users are active on social media platforms because these channels allow them to have a fun and easy way to bond and network. They are able to keep in touch with friends and family and stay updated with what's going on in the world. The users are not expecting any sort of marketing on these channels but that does not mean that they are not interested to follow various brands and products.
The are various reasons because of which the buyers may be more perceptive to your brand information on social media. The social media lets you to be more conversational and show a distinct facet of your brand. The content that you publish on these channels adds to your brand character. It also helps you to express your brand voice. On social media, you are able to make trustworthy associations with your leads and customers, rather than just delivering direct marketing messages. This is something that customers are generally more receptive to.
2. Social media marketing can help you to increase brand recognition.
The benefit of marketing through social media is that it helps you improve visibility, and thus increase recognition for your brand. Your business social media profiles provide you with new opportunities to share your content. It is a way in which you can really showcase your brand's voice and character. By posting engrossing content that adds worth for your target audience. You can make your brand both more available and familiar with new leads and current buyers.
3. Marketing over social media boosts your inbound traffic.
Your social media profiles give yet another way to perceive more inbound traffic to your website. This makes marketing through social media an outstanding strategy to complement your search engine optimization purposes. Each piece of content that you post to your social media profiles is another possibility to bring new guests to your site. Once people visit your site, you will have the chance to convert. You have more opportunities to engage new leads and direct them back to your website once you start posting more and more quality content on your social media channels. If your website is optimized for turns then these new leads will convert into customers within a little time.
4. Different social media channels help you reach particular audiences.
Another benefit of social media marketing is that you are able to strategically target diverse readers based on the channels that your brand is running on. It is better to reach your target market rather than just putting your marketing information out there for everyone to see. You can work in order to drive more qualified leads back to your site. The more appropriate this traffic is, the more likely you can raise conversion rates.
5. Social media advertising enables you to target and retarget suitable customers.
Social ads can do a lot to complement the organic campaigns that are active on your social media channels even though social media advertising does require a bit of an up-front expenditure. With advanced targeting capabilities, different social media platforms like Facebook help you target your perfect buyers. This enables you to drive more appropriate traffic to your site.
It becomes easier to identify new potential leads by defining your ideal customer with Facebook ads. Then, Facebook lets you take your ad content to those who manifest the same types of reactions that your target audience does. As you drive more consistent traffic to your brand site, you can enhance outcomes.
6. Social media marketing enhances your search engine rankings.
There's a good chance that you're already concentrated on refining your search engine optimization. But are you aware of the fact that search engines may be using your social media presence as a factor in the search engine rankings? The successful brands manage to have a robust social media presence. Their media presence is so strong that the search engines believe that the brand is valuable, credible, and trustworthy. Even though the ranking factors keep changing, social media always has an effect on them.
7. Your rivals are already on social media.
Despite any industry, be sure that your competitors are already involved in the social media channels. This means some of your customers are already influenced by rivals. But at the same time, it suggests that there is an opportunity for your brand to perform well on these channels.
If you want to remain competitive in the digital marketplace, it's essential that you work towards constructing a presence on social media. Social media content permits you to exhibit your brand and at the same time, it presents a useful outlet for describing your industry expertise and knowledge. This is a reliable way to set yourself apart from the competition and bring in more appropriate online traffic.
So, now that you know the reasons that make social media marketing worth investing, you should plan the marketing goals clearly to move ahead and convert your audience.