Waves of Change: A Refreshing Thought of Thrillax

"🔥Progress is never possible without change, and those who cannot change their mind, can not change anything." – George Bernard K
The above image is an upcycled wall art mural By Penpals that defines our company's mission vision and work culture. 
We call this artwork "Waves of change". 
This beautiful artwork amalgamates who we are, what we are, and what we believe.
It's not a ready-made artwork that we bought from any store; abundant hard work, creativity, and passion are behind this.
🗓️ It was about February 2021, and we had shifted to our new office studio; everything looked fantastic, and we loved the office, but there was one empty wall, and almost everyone had observed it.
💡 My idea was to showcase something abstract over there, something that gives a new thought or looks like a sea.
It was clear that I would not use this wall with some kind of poster or painting but something more thoughtful.
🔍 I recall Penpals; it is a waste upcycling project where used pens are collected from the source to develop utility products through design interventions that can be used in offices, homes, and public places. 
I met Wricha Johari after a long time and discussed this concern with her.
She is the co-founder of Penpals. I addressed this concern, and she agreed to work.
Now, the question was, what to make and how to make it?
After severe discussion and brainstorming, Under Penpal's guidance, We collected all the discarded pens from the office building and submitted them.
A few months later, we saw a bunch of wastage pens had been converted into exquisite artwork. 
All in all, I want to say is When the wavelength of two creative heads matches, magic happens.
This upcycled wall art mural is the pure magic of two brilliant artists.
📸 Here are some of the behind-the-scenes of "Waves of change" that you must see.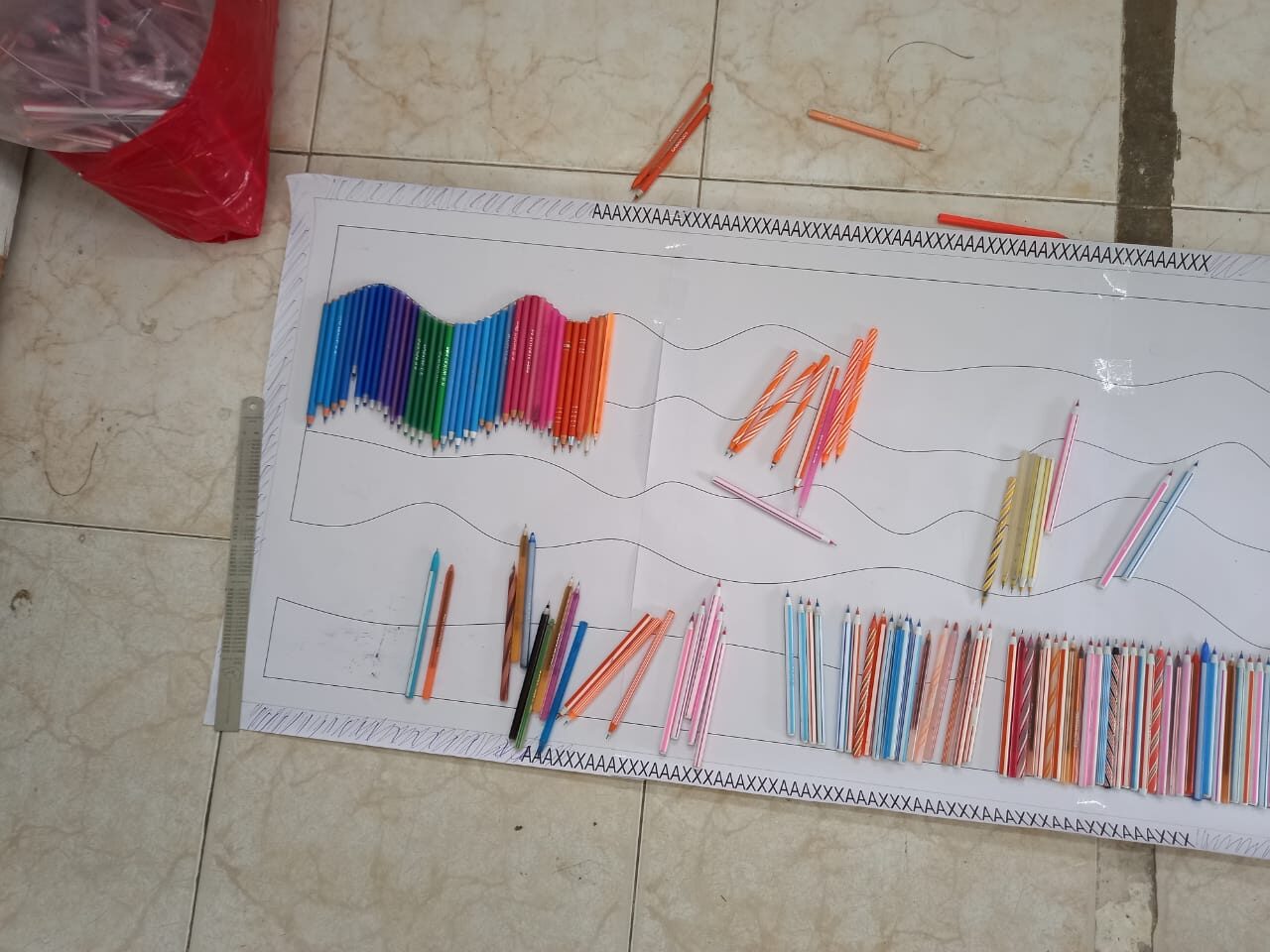 All pens are scattered and waiting to be part of the wave…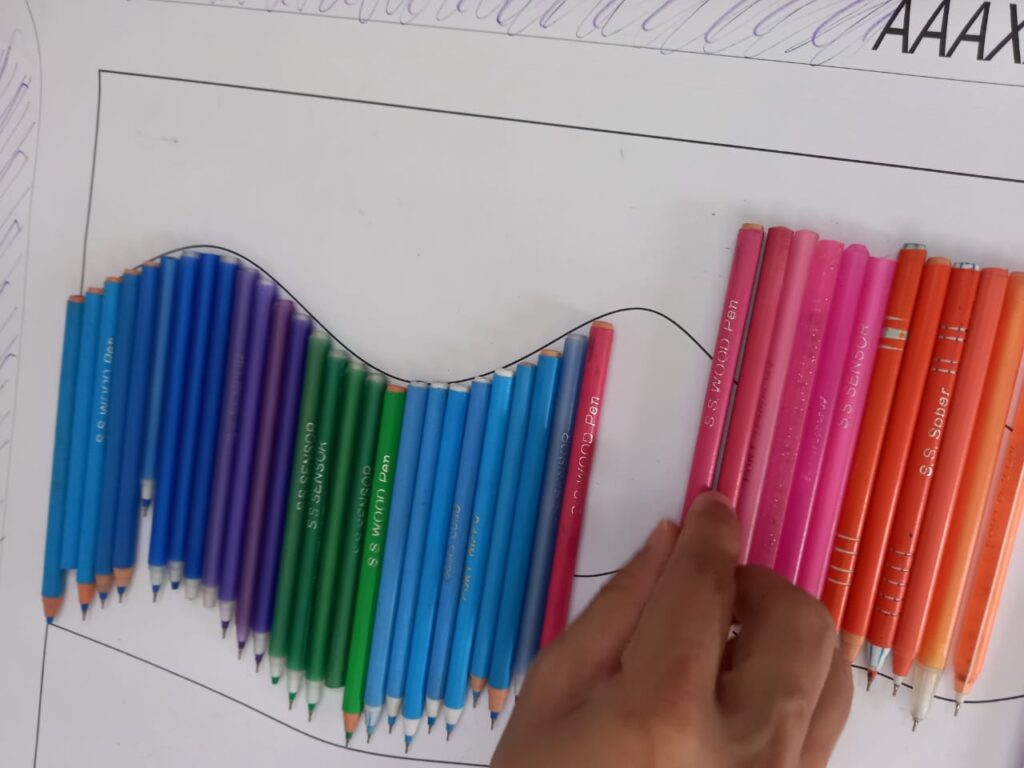 Happy to be gathered in creating waves. Putting a pen in a suitable place is a tricky part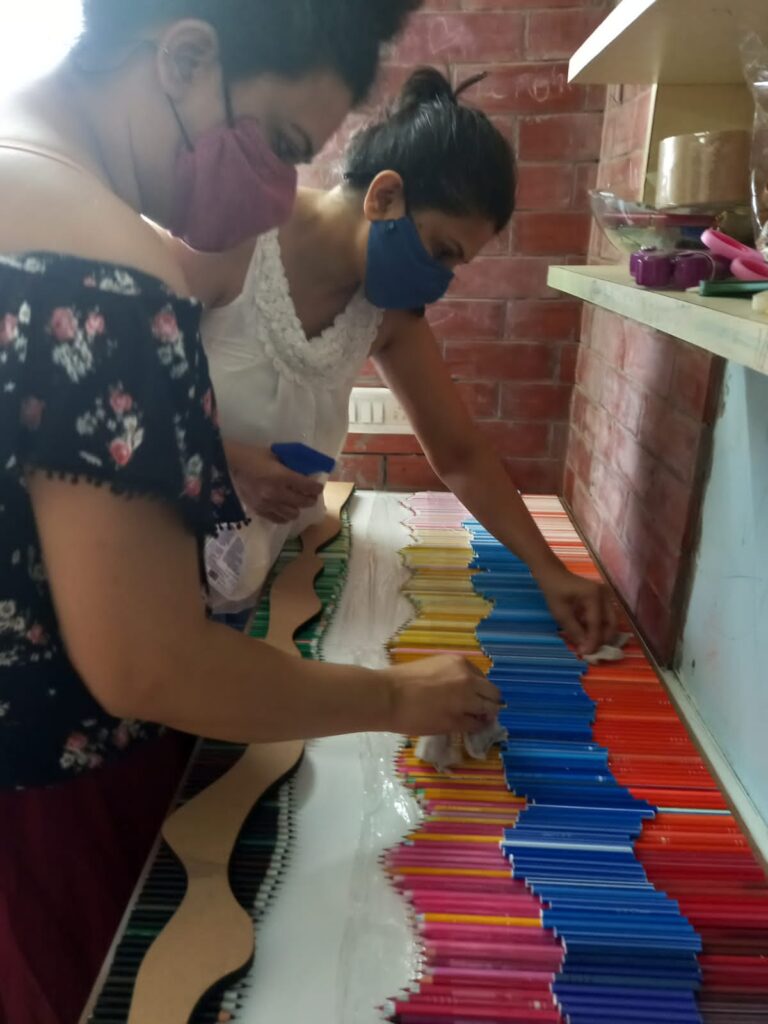 Ladies are seen very focused and cautious, as creating a wave with a pen in the picture.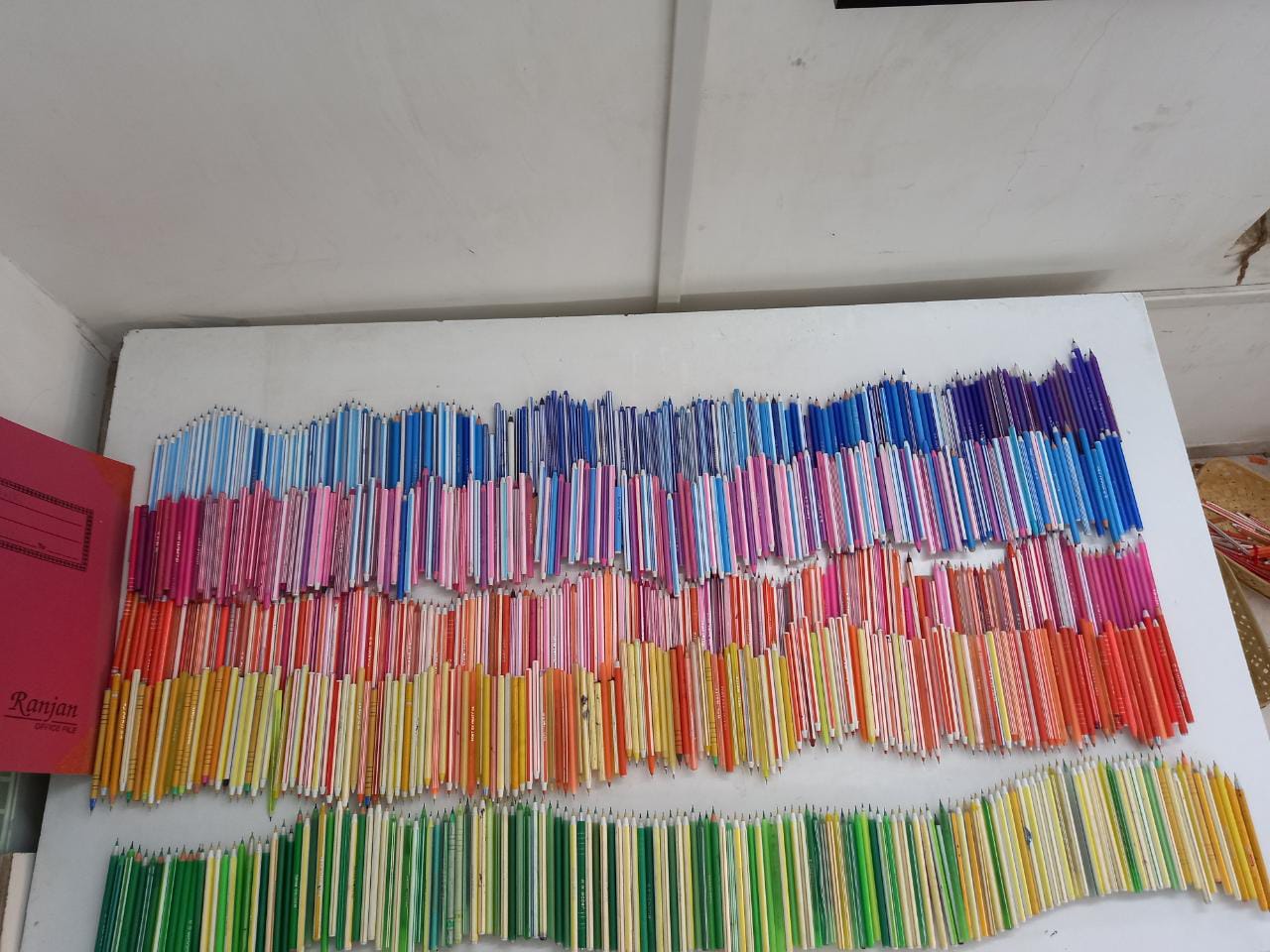 Here is the first composition is ready by the Artist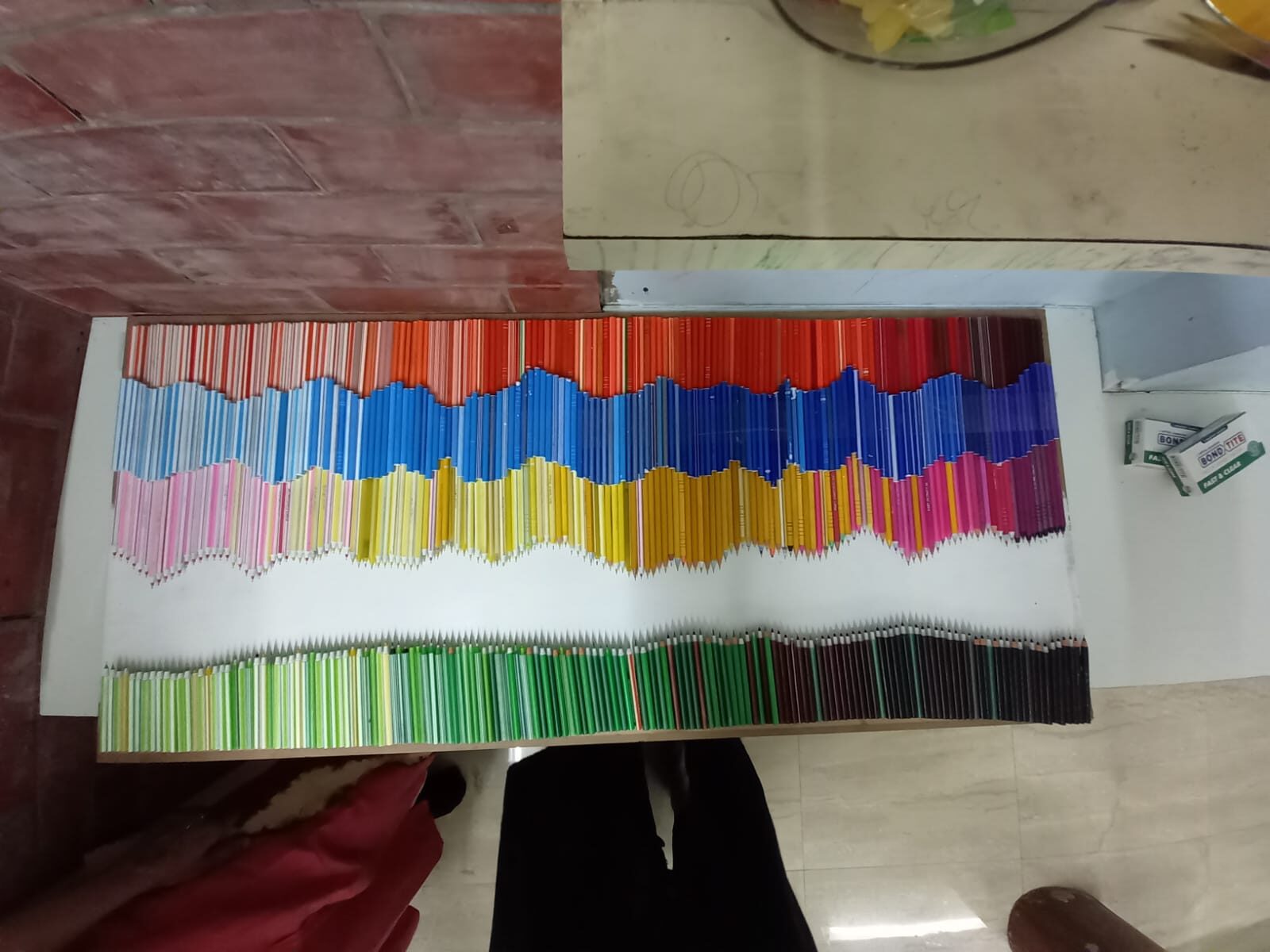 The final Composition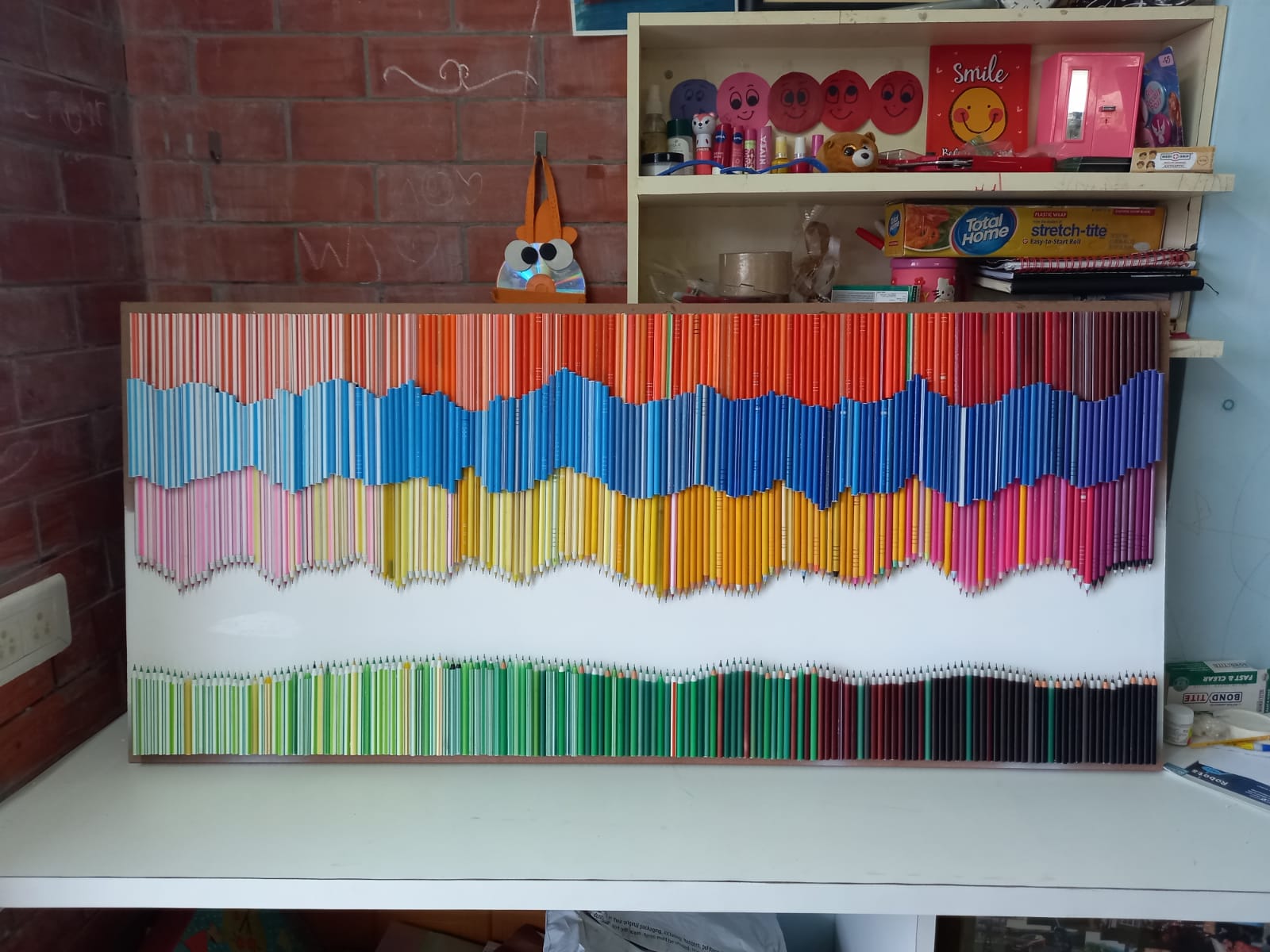 And here is the final Exquisite Wall Art Mural, which looks exhilarating. Hard work always pays off.
🔦 This incredible mural shows how different and unique we are as an individual and as a team.
We don't find excitement and thrill, doing ordinary things.
Being Digital marketers, Innovation and creation excites us to the core.
🏷️ What does "Waves of change" mean to us as digital marketers?
Change keeps alive the thrill and thunder within us.
We are digital marketing explorers, and we love riding on waves of change.
Yes, we are explorers, not experts, but we want to be experts and thought leaders in our industry.
Explorers always find new ways on their journey, new people, new challenges, new destinations, new experiences; hence there is a constant change in exploring.
And one who embraces every change can become an expert and a thought leader.
A decade ago, there was only a website option to know about the company or brand.
There was less scope in marketing; businesses were restricted to newspaper ads, hoardings, pamphlets, mostly marketing had done in physical form.
Now, in 2021, The Internet and social media dominate human brains and have become powerful marketing tools for businesses.
Before even contacting the company, people would know every company's detail through a digital platform, showing how digital presence has become vital.
Digital marketing is surfing on waves of change.
Every year there is new technology arriving in the market. Like, In the coming years, AI will change the face of SEO.
To sustain in the marketing waves of change, one has to adapt to its pace and flow.
We, as marketers, are always on the hunt for new ways of marketing the business.
We believe that bringing change to our everyday life, even if it's your go-to office route or your work pattern, will open the doors for uniqueness and innovation.
We want to show how we stand out from the others and what we could offer you as a marketer through this beautiful artwork.
As waves never stop flowing, we never stop growing.
📊 Analysis of the Artwork
The mural shows fluctuating waves in the upper part and stable waves are in the lower part.
And the little white space partitioned the two parts.
The Waves that are slightly stable in the lower part are the aim that we want to achieve.
It is the stage where we want to stand as thought leaders.
Once we reach there, we will find our stability, but we want to fluctuate and keep changing innovatively and creatively like the waves shown in the Mural.
We are marketers who like to play with content like a curious child.
Because the more we change, the more we learn.
As a digital marketing team, we are in a growing stage where we are open to changes and challenges. Once we are satisfied with all the learning and exposure, we will happily meet the stable waves.
🖼️ Final words
This Beautiful artwork Mural is on our office wall; it keeps reminding us that we are unique and tells us to remain unique.
We would love to put our thoughts and ideas into our marketing strategies to uplift your business and company in this digital marketing industry.
We don't guarantee success, but we guarantee innovations.