How to Write SEO Content – (Literally!) Everything You Need to Know

SEO and content go hand-in-hand.
Without good search engine optimization (SEO), your content can easily get lost somewhere on page 30 of the search results where the possibility of organic traffic is virtually zero.
Likewise, your first-position ranking won't amount to anything if your content quality is poor.
The point is, if you want to rank in the first position on Google search engine result pages (SERPs), learning how to write SEO content is a must.
If you want a better understanding of SEO content writing, you've come to the right place.
In this post, we've shared the complete step-by-step process to write SEO content.
In fact, this is the exact approach we follow at Thrillax to help our clients rank at the first position in Google SERPs for their target keywords.
With that said, let's get down to business!
What is SEO Content?
SEO content refers to the process of writing content with the intent of ranking at the first position on Google SERPs, while also appealing to the target audience at the same time.
To write SEO content, you must keep in mind the following three rules:
Search Intent — Identify what searchers are looking for when they search your target keyword.
In-Depth Research — Find the best possible answer for a search query.
Easy to Digest — Write your answer in an easy-to-understand way.
We'll discuss more on each of these bullet points later.
First, let's understand the importance of writing SEO content.
Why is Writing SEO Content Important?
It's simple — writing SEO content helps to rank at the first position on Google SERPs.
And ranking at the first position is essential to drive targeted traffic to your website and grow your business.
A study has also found that the number of clicks your content gets depends not only on getting a first-page ranking in Google SERPs but also depends more on getting as high up on that page as possible (preferably at the first position).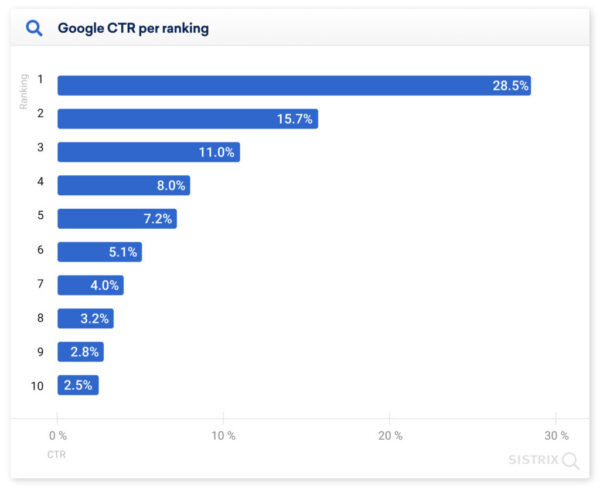 As you can see in the above screenshot, the first position result on the first search results page receives more than 28% of clicks. And the percentage of clicks goes down with each position on the page.
So how do you write content for search engines while also writing for your target audience who reads it?
Here's the complete process of writing SEO content that gets those coveted top position rankings on the first page of Google search results.
How to Write SEO Content: Step-by-Step Process
SEO content is about writing on topics that your target audience is searching for and giving them what they want.
Let's go through the process of writing SEO content in more detail.
Step #1 – Research your Target Keywords
In order to write SEO content that ranks well on Google, you need to research the keywords your target audience is using.
An ideal target keyword should have good ranking potential, traffic potential, and business potential.
For example, here's a target keyword I have identified for a baking supplies business using the Ahrefs tool: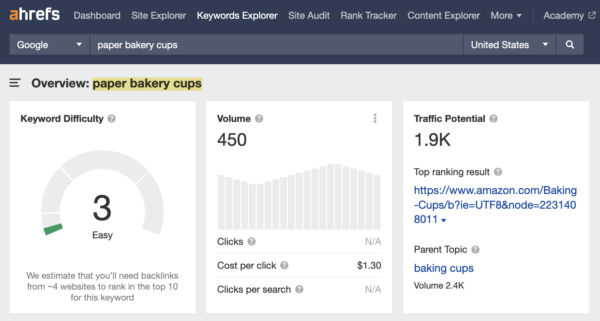 As you can see, the keyword "paper bakery cups" not only has good traffic and business potential but also seems easy to rank given its Keyword Difficulty score.
Step #2 – Understand the Search Intent
Once you've prepared a list of keywords to target through your SEO content, the next step of the process is to understand the search intent of each target keyword.
Understanding the search intent basically means figuring out what the searchers are looking for when they type your target keyword in Google search.
Most of the time, the target keyword itself reveals the search intent.
For example, when people search "Best Sushi Restaurants in New York", it's clear that the searchers of this keyword are looking for a list of restaurants.
At other times, however, the search intent of a target keyword may seem difficult to comprehend.
In such situations, you can still identify the search intent of a target keyword by inferring intent from what's already ranking on Google.
To elaborate, you need to analyze the top ranking pages for your target keyword and look for the following:
Type of Content — Are the top ranking pages blog posts, landing pages, product pages, or something else?
Format of Content — Are they recipes, how-to guides, free tools, tutorials, listicles, or something else?
Approach Angle — Is there a unique selling point like how easy it is, a heavy discount offer, or something else?
Step #3 – Create an Outline
Creating an outline is a crucial step in the SEO content writing process. It makes the writing process much easier and faster while ensuring a high level of content quality.
For the uninitiated, an outline is a detailed overview of what your content will include.
The first part of the outline process involves determining the headings, sub-headings, approach angle, and end goals of your content.
It helps to figure out what will make your article unique or better than other articles that are already ranking in top positions.
The second part of the process involves looking at things from an SEO perspective such as common questions searchers have when they type your target keywords in Google search.
In a nutshell, creating an outline for your content can help to elevate your content flow, writing efficiency, and help to include the required elements of SEO.
Step #4 – Write your First Draft
All great articles (like this one 😉) begin with a rough first draft.
First drafts are all about free-flow writing without worrying about your words making perfect sense and just getting the meat of your content on the page.
In other words, writing the first draft gives you the perfect opportunity to flesh out the flow of your content and refine your idea.
Additionally, when you're in the phase of writing your first draft, you can easily change or revise things without feeling like you're starting over.
Step #5 – Make it Unique & Sticky
Striking the perfect balance of uniqueness & stickiness is not easy as it sounds.
To make things simpler, we're going to explain how to make your content unique and sticky separately, starting with the "uniqueness" part.
If you base your content entirely on the top-ranking pages from Google SERPs, you'll end up creating copycat content.
The problem with creating copycat content is that your content will not be able to offer anything new or unique to your target audience. As a result, it will fail to perform well on Google SERPs.
The good news is, you can easily avoid creating copycat content.
Here are a few tips to make your content unique from what's already out there:
Incorporate Better Research — Look for the latest studies, research reports, surveys, and polls that offer fresh insights on your topic.
Offer a Unique Perspective — Whatever subject you're writing on, include your personal opinion or try coming up with a different angle to look at things.
Expand on What's Already There — Taking inspiration from top-ranking pages is good as long as you go deeper than others, expand on key ideas, or simply provide better alternatives.
As for the "stickiness" part, the first thing you need to understand is that people are not going to stick around if they find your content difficult to understand.
And if the majority of searchers abandon your content within a few seconds after landing on your website, your bounce rate will go up, affecting its ranking on Google SERPs.
Here are a couple of quick tips to remember for making your content "sticky":
Avoid writing complex words and sentences in your content
Write shorter paragraphs to make your content look clean
Use images and videos throughout your content to break large walls of text
Use words and jargon that resonates with your target audience
Tools like Grammarly, ProWritingAid, and Hemingway can help with spotting grammar & spelling errors, and sentence simplification.
Step #6 – Polish your Final Draft
Writers often have trouble spotting mistakes in their content, which is why getting feedback from a different pair of eyes can be quite helpful.
However, if investing in an editor is not an option for you at the moment, you can most certainly learn to spot mistakes and polish your final draft by yourself.
At Thrillax, when we create SEO content for our clients, we always keep in mind the following goal:
Provide the best possible answer to a search query in the fewest words possible with an easy-to-skim content structure.
If you want to achieve this goal in your SEO content, you need to ask yourself the following questions when editing:
Is this the best possible answer for the search query?
Is my content explaining it in the simplest manner?
Is my article easy to skim while still conveying the gist of it?
Apart from this, you should also make it a habit to read your content out loud to yourself.
Doing so will help to instantly spot where boring parts are, where things are getting complicated, and where the context is unclear.
Step #7 – Get your On-Page SEO Elements Right
Once you've polished your final draft and turned it into a proper article, the only thing that remains to do is optimize your content for SEO.
This includes taking care of the following On-Page SEO activities:
An intriguing SEO title
A compelling meta description
URL slug containing your primary target keyword
Image Alt tags
Internal linking
Ideally, you should add internal links from other pages on your website to the new article once it is published.
Adding internal links to your already indexed pages helps search engines to discover your new article faster, establish what your new article is about, and index it properly.
Key Takeaways
In the end, SEO content writing boils down to the following:
Figuring out the right keywords to target
Understanding the search intent
Providing the best possible answer
Presenting your answer in easy to understand & skimmable way
As long as you nail these things and the basic on-page SEO elements I mentioned, you'll start creating SEO content that ranks on the first page (and eventually at the first position) in Google SERPs in no time.